Bubble Bath Bliss: The Best Bath Products for Jetted Tubs

By Jennifer Rhodes · Updated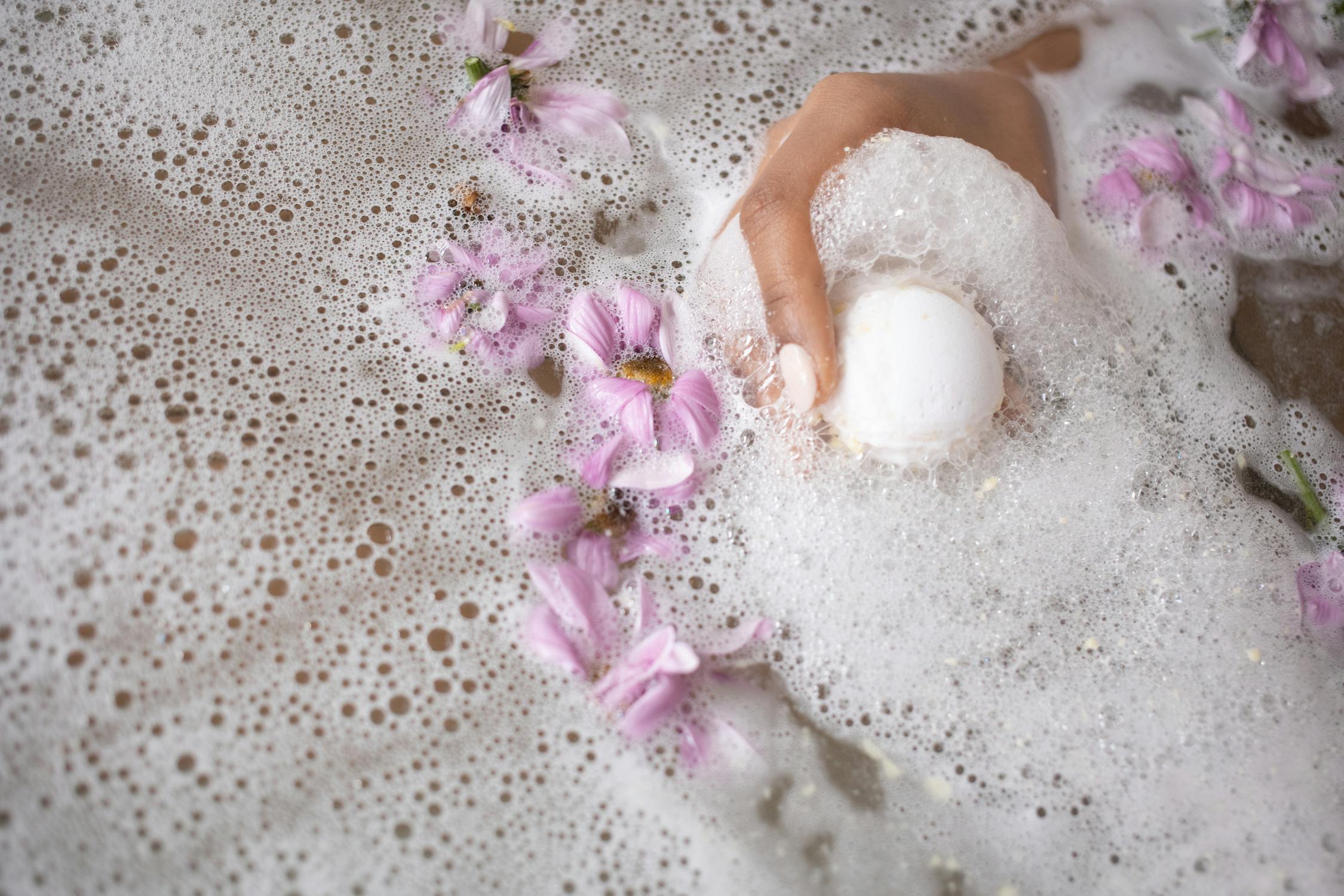 As an Amazon Associate I earn from qualifying purchases.
Whether it's a quick soak after a long day or a full-on spa-like retreat, there's nothing quite like taking a luxurious bath in a jetted or Whirlpool tub.
And when it comes to choosing the perfect bath products for your jetted tub, you want your soak to be equally as luxurious. But with so many different options out there, it can be difficult to know what products are the best fit. Is there even such a thing as a bubble bath for jetted tubs?
I don't know of one specifically, but I do know of several alternative products you can use to get that aromatherapy fix. The problem of course is that you don't actually want to produce a lot of bubbles, as the jets will do that for you.
Here are some of the best bath products for jetted tubs—and why you should consider them for your next relaxing and pampering bath.
1. Epsom salts
Epsom salts, also known simply as bath salts, are a type of mineral that is safe to use in jetted tubs. This salt helps to relax and soothe tired muscles, making them a popular bathtime addition.
They can also help to remove dead skin cells while providing essential minerals such as magnesium. Epsom salts create a luxurious and indulgent experience when used in a hot bath, and can help to ease tension and promote relaxation.
Relax Spa & Bath Epsom Salts for Soaking
These Epsom salts are the perfect addition to any luxurious bath. Not only are they infused with vitamins and minerals, but the fine grain texture makes them dissolve almost instantly in the water. Additionally, they are made with natural, sustainably sourced Dead Sea salts and are also pretty affordable, making them an ideal choice for anyone on a budget.
Life Is Calm Epsom Salt Spa 6-Pack
This set of salts presents an oasis of calm right in your own home. It comes with six therapeutic formulations designed to restore, cleanse, relax, balance, purify, and soothe you. Created with natural Epsom salt, each one helps to replenish your skin and body with minerals, whilst also encouraging deep relaxation.
This spa-grade product makes it easy to create the perfect jetted tub bath. Simply measure the desired amount and toss it into your tub for a luxurious, skin-rejuvenating soak. If you're looking to detoxify and relax after a long day, then this product is definitely worth a try.
2. Hot tub products
Hot tub scents are a great way to add a touch of luxury to your hot tub experience—but their spa-safe formulation makes them a great choice for jetted tubs too.
Many hot tub products offer a variety of scents that range from calming aromas to invigorating fragrances. You can choose scents such as lavender, peppermint, eucalyptus, and other natural aromatics to suit your mood.
InSPAration Lavender Aromatherapy
InSPAration Lavender Aromatherapy is a great product for adding a soothing and calming scent to your bath tub. This product is perfect for jetted tubs, as the formulation is designed not to foam up.
Though this product is great for the tub, the InSPAration fragrances are hit or miss in my experience. Some people may find the scent to be too strong or unnatural.
InSPAration Hot Tub Spa & Bath Aromatherapy Pods
These aromatherapy pods are perfect for sampling a range of InSPAration scents. Each pod contains a different fragrance to help soothe and relax the mind and body.
The convenience of these pods makes them incredibly easy to use, and the variety of scents ensures you can try a few until you find your favorites. Additionally, each pod is the perfect size for a single bath session.
However, as the pods are quite small, you may find you don't achieve the desired amount of aromatherapy benefits you are looking for, which is especially true if you have a larger tub. Then there is also the risk of disliking some of the scents. You have to find out somehow though, right?
InSPAration SpaBomb 6pk Gift Box
If you're more of a bath bomb person, you'll be happy to know InSPAration also make a set of spa-safe bath bombs.
They won't give you bubbles, but you will get that satisfying fizz and a burst of fragrance to enjoy alongside your massaging jets. Sounds pretty good to me!
3. Bath oils
Bath oils are another popular choice for adding moisture and relaxation to bath time. Although many people find bath oils pleasurable to the senses, they can create an unpleasant film on the surface of the tub when added to the water.
As a result, bath oils should only be used sparingly in jetted tubs. You can get away with using them as long as you clean the tub regularly, including using a line flush product like Ahh-Some Hot Tub/Jetted Bath Plumbing and Jet Cleaner to clean out your tub's plumbing.
Kneipp Herbal Bath Oil Gift Set
This luxurious gift set features a variety of Kneipp's revitalizing and restorative herbal bath oils.
The oils are made with natural fragrances, like lavender, lemon balm, and eucalyptus, providing you with a unique spa experience. The travel sizes again make it easy to sample several fragrances.
Can you use bubble bath in a jetted tub?
If regular bubble bath is all you have on hand right now, the answer is yes—you can use a very small amount in a jetted tub.
Just keep an eye on the bubble situation when you run the jets, and be ready to turn them off if the bubbles get out of hand.
Many people do happily use a tiny amount of regular bubble bath in their jetted tubs with no problem, but do check out some of these alternatives as you'll get a much better aromatherapy experience that way, without having to worry about bubble overflow.
Closing thoughts
A jetted tub is a great way to enjoy some luxurious bubbly comforts at home. With the right bath products at your disposal, you can take your bubble bath to an even higher level of luxury and relaxation.
The bath products I've listed above can make a world of difference in the quality of your soak—without having to compromise on scent just because you have a jetted tub.
So, turn on some soothing music, light up some scented candles, and get ready to indulge.