What Is the Best Cedar Hot Tub? 6 Manufacturers Compared

By Jennifer Rhodes · Updated
As an Amazon Associate I earn from qualifying purchases.
Cedar is a durable, rot-resistant and naturally beautiful wood that will give your hot tub a unique and rustic look that will blend in perfectly with nature. These tubs are also fairly easy to maintain, and they can be stained or painted to protect the wood from the elements and keep it looking new for years to come.
But how do you choose the right one?
You have a lot of options when it comes to picking a cedar hot tub. From DIY kits to pre-assembled (or even fully installed for you), it's mostly just a case of balancing budget and how much work you want to do. I'll run you through a few options from some of the best cedar tub manufacturers in the world.
Handcrafted in Canada: AlumiTubs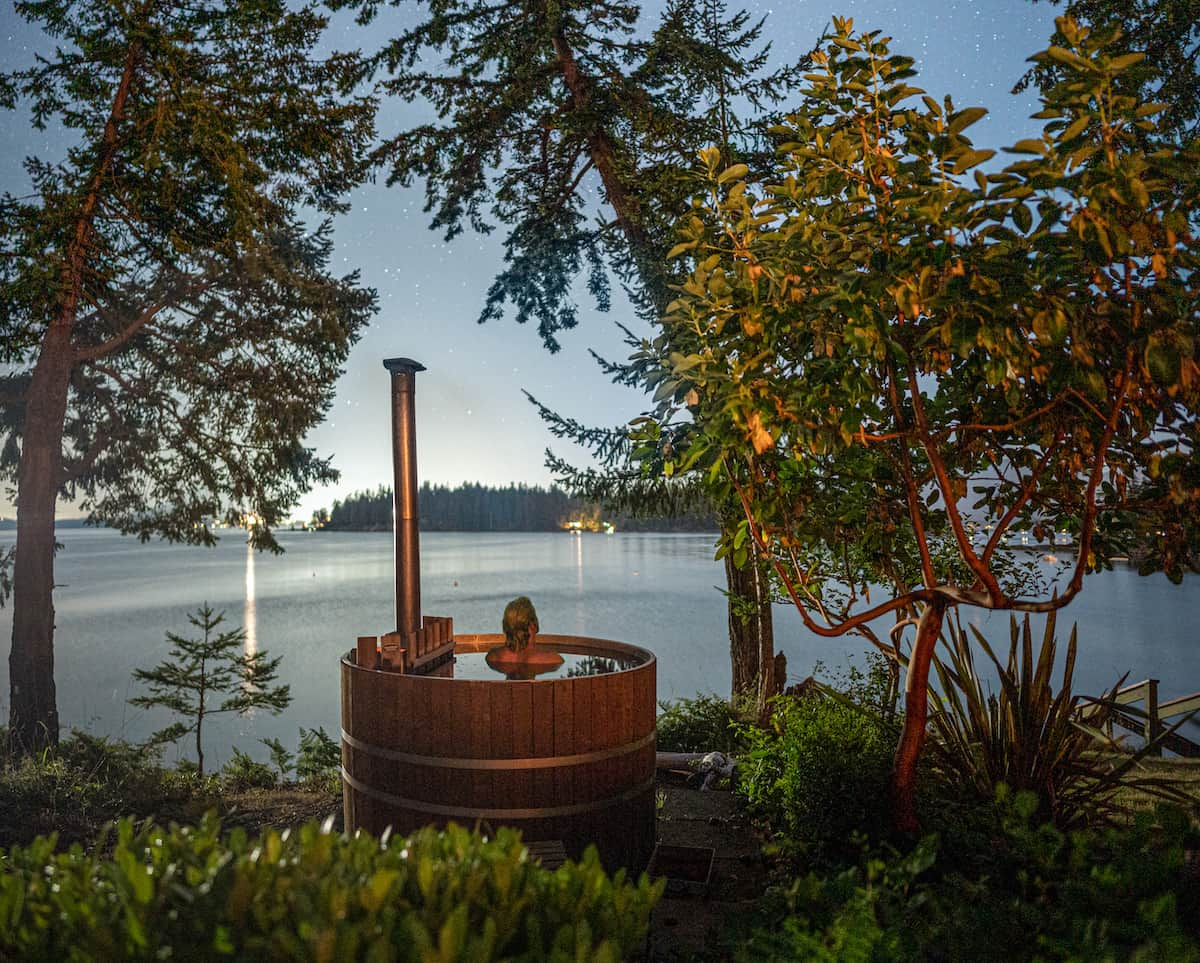 AlumiTubs small batch wood burning hot tubs were built to outperform a traditional cedar hot tub. Designed as a place to gather and connect with loved ones in the great outdoors, each tub is handcrafted on Canada's west coast, using 100% locally sourced and recyclable materials. AlumiTubs are built to stand the test of time, using FSC certified Canadian Western Red Cedar and marine-grade aluminum, so they will last for decades.
AlumiTubs are multi-fuel compatible and can be heated with alternative fuel sources such as propane, natural gas, electricity, or solar. Because of their aluminum design, AlumiTubs can be used with fresh or saltwater and do not require any electricity or chemical treatments. The marine grade aluminum foundation is naturally hygienic for weekend use, or customizable with filtration for the more frequent soaker. Triple-insulated with superior heat retention, AlumiTubs are easy to winterize or use all winter long, depending on your lifestyle. They're also incredibly low-maintenance and easy to clean – simply empty, rinse, wipe with a soft cloth and refill again.
AlumiTubs come in two sizes: a standard size, which can comfortably hold up to five people, and a large-sized tub which can hold up to eight people. AlumiTubs offers free shipping to locations across North America, and they are lightweight and pre-assembled, making it a breeze to transport them. Designed for life at the cabin and customizable for residential use, AlumiTubs are made for slowing down the moments you don't want to miss. Learn more at AlumiTubs.com.
Northern Lights is an established company that has been providing the finest traditional wooden hot tubs to customers all over the world since 1996. As a family-owned business, they truly care about their customers and go above and beyond to provide exceptional customer support.
They have a wide selection of beautiful hot tubs to choose from, and I especially like their online tub design tool which lets you build your own hot tub with exactly the options you want. But they're also happy to work with you on a custom-designed project.
And the quality of their hot tubs is second to none—they use laser technology and the finest Canadian western red cedar to craft their tubs. Plus, they offer the most heating options available in the industry, which is especially important if you're looking for the greenest way to run a hot tub.
Choose from:
Traditional wood-fired
Gas
Electric
Heat pump
Gas-electric hybrid
They sell their tubs either as hot tub kits, which is the most economical way to buy, but also offer fully assembled or professional installation options if you don't feel like taking on a project:
Northern Lights Group Economy Cedar Wood Soaking Tub - 5ft5in x 36in - Wood Fired Heater
View on Amazon
Unlike a lot of North American manufacturers, they also have European and Latin American distributors so are very widely available.
Overall, Northern Lights is an exceptional choice for anyone looking for a luxurious and high-quality cedar tub.
A newer addition to the cedar tubs landscape, Redwood Outdoors was founded relatively recently in 2015.
They have gorgeous range of cedar hot tubs, which come with a unique vinyl liner as standard. This will not only protect you against any possible splinters from the wood, but can also be used to install extra insulation underneath, making your wooden hot tub more energy-efficient.
Note: With the Redwood Outdoors tubs, you don't have the option not to use the liner. So if you're looking for a full wooden interior, this won't be an option for you.
Redwood Outdoors offer range of sizes of cedar tubs for 3 to 8 people, plus 2 heating options. And you can choose from a traditional wood-fired or electric heater. These hot tubs come as kits and are designed to be assembled DIY-style but it doesn't look too complicated. Here's a video showing how it's done:
Also, if you're interested in the electric heater version, note that their electric heaters or not UL listed—so be sure to check if this is a requirement where you live before purchasing.
Another veteran in cedar hot tubs, Snorkel have been supplying traditional wooden tubs since 1979. Although they do now offer gas and electric heating options, they specialty remains the wood-fired tub. Thanks to their signature Snorkel® Stove, they have been pioneers of the wooden hot tub movement across the country since its roots in the 1970s.
For smaller tubs (5' or less in diameter), you can instead opt for their Scuba® Stove which is just a smaller version of the original.
Snorkel hot tubs are manufactured in the USA using premium-quality all heart, clear Western Red Cedar from Canada. You have three options for installation: DIY kit, pre-assembled, or assembled by a contractor. Most people have no problems with the kit version, although you will want two people, and expect to set aside 4 hours.
You'll notice their website and ordering process is not as modern as some of the newer options out there, but it gets the job done.
Great Northern are another industry veteran, also producing wooden tubs since the mid-70s.
Although most of the vendors I'm including in this article offer their tubs in kit form, the Great Northern kits stand out for two main reasons:
Price: Great Northern sell their hot tubs at factory-direct pricing, meaning you can pick up a starter package from just $3,912—that's almost half the price of some other options.
Insulation: Thanks to a Poly-Tex liner (the water does not touch the wood at all with the Rubadub Tub® or OpuSpa™ models) these tubs include a layer of foam insulation under the liner as standard. The liners are easy to clean, and many would say more comfortable than sitting on bare wood.
I also love their Air Bubbler jet system, which you can see a clip of here:
Like all wooden tubs, these can fit through doorways before assembly. But even if you want to relocate a Great Northern once it's been built, this is also possible. Just flex and "ovalize" the tub and it will pass through doorways! You don't get that option with many hot tubs.
Best Japanese ofuro cedar hot tub: Roberts Hot Tubs
Roberts is another big name in the cedar tub world, having been in business since 1976. But I especially wanted to call out their Japanese ofuro tub offering here.
Roberts' ofuro tubs are crafted to embody the essence of traditional Japanese soaking tubs, which are always square or rectangular in shape:
Thanks to Roberts' master craftsman's origin as a woodworking apprentice in Japan, they have been able to bring the authenticity of this ancient tradition to the tubs they make today.
When you purchase one of their tubs, you'll be getting everything you need for the ultimate soaking experience. The centerpiece of the system is of course the tub itself, which comes with a single sloped side for reclining, and is available in a choice of Port Orford Cedar, Alaskan Yellow Cedar, or Teak.
You can then opt for either a 5.5kw or 11kw electric heater, or a 125k BTU Natural Gas heater. To keep your tub at the perfect temperature, you also get a 6x4 insulated foam cover in Weather Shield Mahogany. And finally, your purchase includes a plumbing kit with 4 jets, a pump, filter, WiFi controller, and sanitation system, so you have everything you need for simple, relaxing soaks.
All in all, if you're after the most authentic Japanese soaking experience, you cannot go wrong with one of these ofuro tubs.