The Best Towels for Sensitive Skin: Soft, Gentle & Irritant-Free

By Jennifer Rhodes · Updated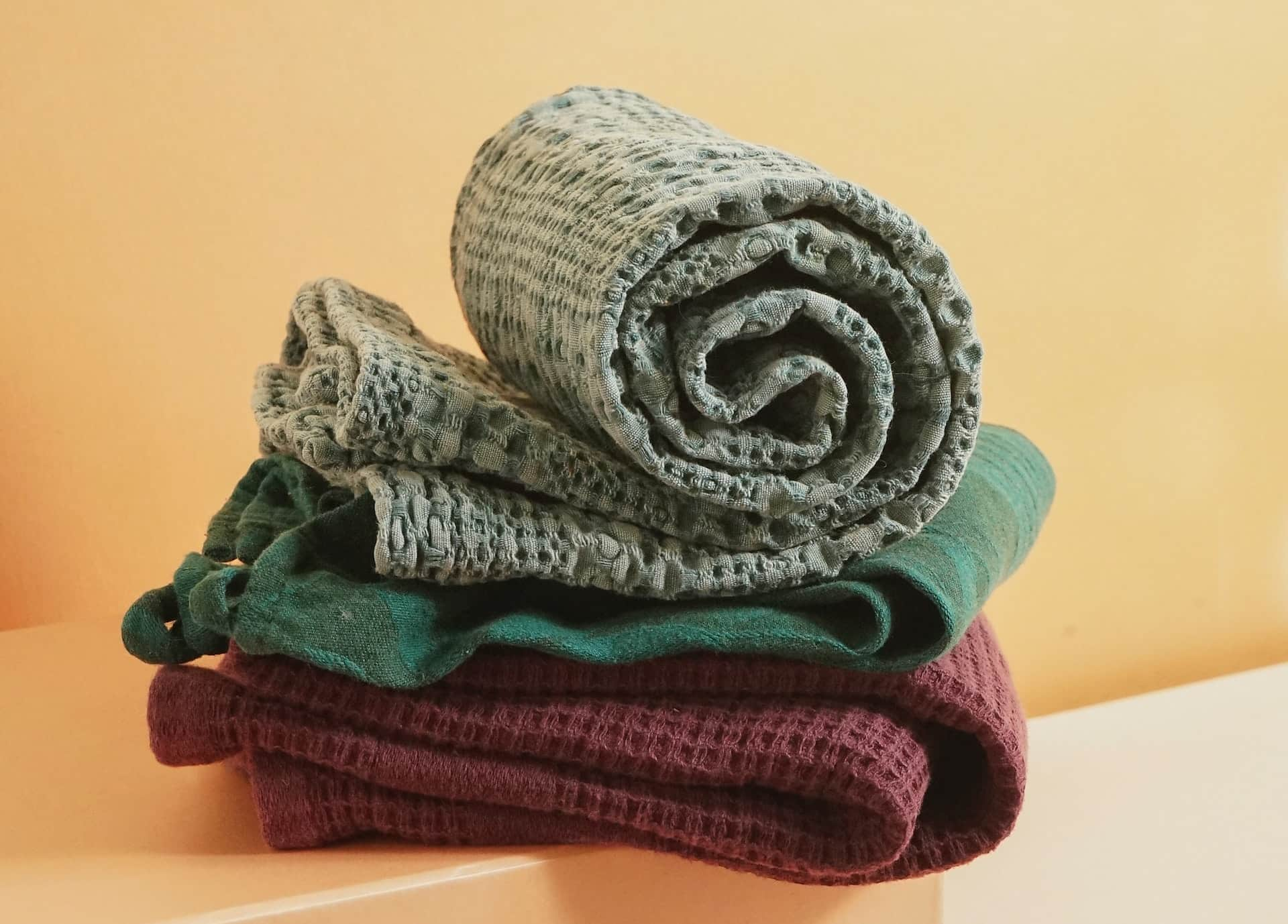 As an Amazon Associate I earn from qualifying purchases.
Keeping sensitive skin healthy and hydrated can be a tricky process that requires regular moisturizing, gentle body washes and lotions, and careful skin-care habits. A scratchy towel, though, can negate all of the hard work and expense.
When you're looking for towels designed for sensitive skin, you should choose a gentle, absorbent, and durable fabric. Microfiber, high-quality cotton, linen, and even bamboo are all ideal. A little texture is also great for absorbency. You'll want to avoid harder materials like muslin, or cheaper, thinner cotton.
With these thoughts in mind, we're going to take a look at five of the best towels for sensitive skin—which all provide soft, gentle drying capabilities.
1. Waffle texture towels
Soft, absorbent, and beautiful are all words I would use to describe these gorgeous waffle towels. Made from 40% bamboo and 60% cotton, they have a spa-like softness and naturally absorbent qualities. The unique waffle-patterned exterior is there to add some cozy texture, and the neutral earthy colors will fit in well with any bathroom decor.
This towel set makes the list because the combination of soft materials, high-absorbency, and beautiful aesthetics makes it one of the best you can buy. In addition to their stylish design, the towels add functionality to boot. The interior terry side of the towel is soft and highly absorbent, and gives you choice between the two different textures.
So, are these the perfect towels? Well, my main critique is the length of time these towels take to dry. If you wash several times a day, or wash your hands often, you could find yourself with a damp towel when you need it. And of course, although we love a waffle texture, we appreciate it isn't for everyone.
2. Pure linen towels
There's nothing like the nature-inspired feeling of linen clothes on your skin, so why not apply that to towels? These stone-washed bath towels are 100% natural linen flax, making them extra soft and perfect for sensitive skin. Though their waffle-like texture is similar to the previous bath towel, these have a bit more of a subdued design and are less thick in general, aiming for more functionality than comfort.
Their thinner fabric, high absorption, and fast drying rate make them similar to quick-dry towels, making them perfect for on-the-go activities. Looking for natural towels to take the gym, on hikes, or to yoga? These are your towels. Though they may not be as thick as the other options on this list, that does mean these linen towels roll up small—great for homes with little storage space.
There are some downsides to this pure linen towel, though. Their light weight and size make them decent home bath towels, but they could use a bit more absorption to really earn their place as high-quality daily towels. They also may shrink after washing, so be sure to check the recommended water temperature before throwing them in the wash.
3. Ribbed cotton towels
These ribbed Turkish towels come in a stunning variety of colors, and the unique ribbed design makes them fantastic bath towels for those who like a textured towel, with something a bit different to waffle. These are designed to mimic hotel and spa towels, bringing luxurious style and absorbent thickness to your bathroom. They are also designed for durability, built to get through wash after wash without softness or color fading.
These have also made this list because they are made from 100% Turkish cotton, making them soft for sensitive skin, due to a higher number of threads per square inch. Compared to the other towels so far, these are fairly large, which makes them super comfortable and absorbent. And even despite their size, they do seem to dry fairly quickly.
The main area where these ribbed cotton towels lose points is due to the lint they shed. You may need to go through several wash cycles when they're new to stop them from getting bits everywhere.
4. Textured cotton towels
Another textured towel, this large-sized set comes with a unique popcorn texture and brings both style and comfort to your bathroom. Compared to the other towels on this list, these are the largest and thickest. If you're looking for an extremely cozy, cuddly feel from your towel, these are the ones for you!
Though the popcorn design of these textured cotton towels adds a subtle but simple beauty, it also has practical benefits too. The consistency adds a gentle scrub to your skin, absorbing water quickly and efficiently with one stroke. They also dry very quickly when you consider how thick they are.
However, they are perhaps not as soft as they could be, even after several washing machine cycles. They are also not the most color-fast, so you might see some fading over time.
5. Pure Turkish cotton towels
With a classic design, these sumptuous towels are hand-made in Turkey from high-quality cotton. And they're as fluffy, soft, and absorbent as you might expect. Chakir, the manufacturer, clearly wants your bathroom to feel like a resort—a home away from home after a long day.
Made to become even fluffier and softer with each wash, these eco-friendly towels are great for those with sensitive skin, as the natural cotton material gently soaks the water from your body with no need for scrubbing. These are great all-around towel, whether for the pool, spa, or just for general everyday use.
The biggest downside? These towels bleed. The darker colors on offer are especially notorious for affecting other clothes, so just be sure to only wash them in separate loads with similar colors.
FAQs
What are the best towels for eczema?
The best towels for eczema are ones made from bamboo, and bath towels that dry quickly. Additionally, Dermatologists suggest washing your towels every 3 days, as bacteria, yeast, and mold will build up on wet towels quickly.
What are the best towels for acne-prone skin?
It's no surprise that rough or dirty towels can irritate skin and cause inflammation, which can then contribute to acne breakouts. Finding a soft cloth for washing and drying, changing towels frequently, and buying specifically antibacterial towels is the best bet for those suffering from acne.
Do towels damage skin?
Towels can certainly be harsh on your skin, especially for those who already have sensitive skin. Rough towels can cause redness, breakouts, and other irritations to people with sensitive skin. But overall, they should not damage your skin when used correctly.
Dermatologists recommend that you don't rub yourself dry with any towel, no matter the material, but wrap yourself in them to soak up rather than scrape away the water.
What towel material is best for my body?
The softest, most absorbent, and highest-quality towels are made from Turkish and Egyptian cotton. These towels are great for everyday use, but they don't offer anything specific to people with eczema or acne besides their soft texture and quality.
Aegean cotton is one of the highest-quality towel materials on the market. These towels are hypoallergenic, avoid toxic chemicals, and are soft and absorbent. This is an amazing combination for people with sensitive skin, and they're long-lasting and durable too!
Are microfiber towels good for sensitive skin?
The thin, smooth materials that make up microfiber are great for wiping extra-sensitive areas like your face. Additionally, these towels have the added benefit of being hypoallergenic due to the synthetic fabric fibers.