Clawfoot Tubs: How Much Do They Really Cost?

By Jennifer Rhodes · Updated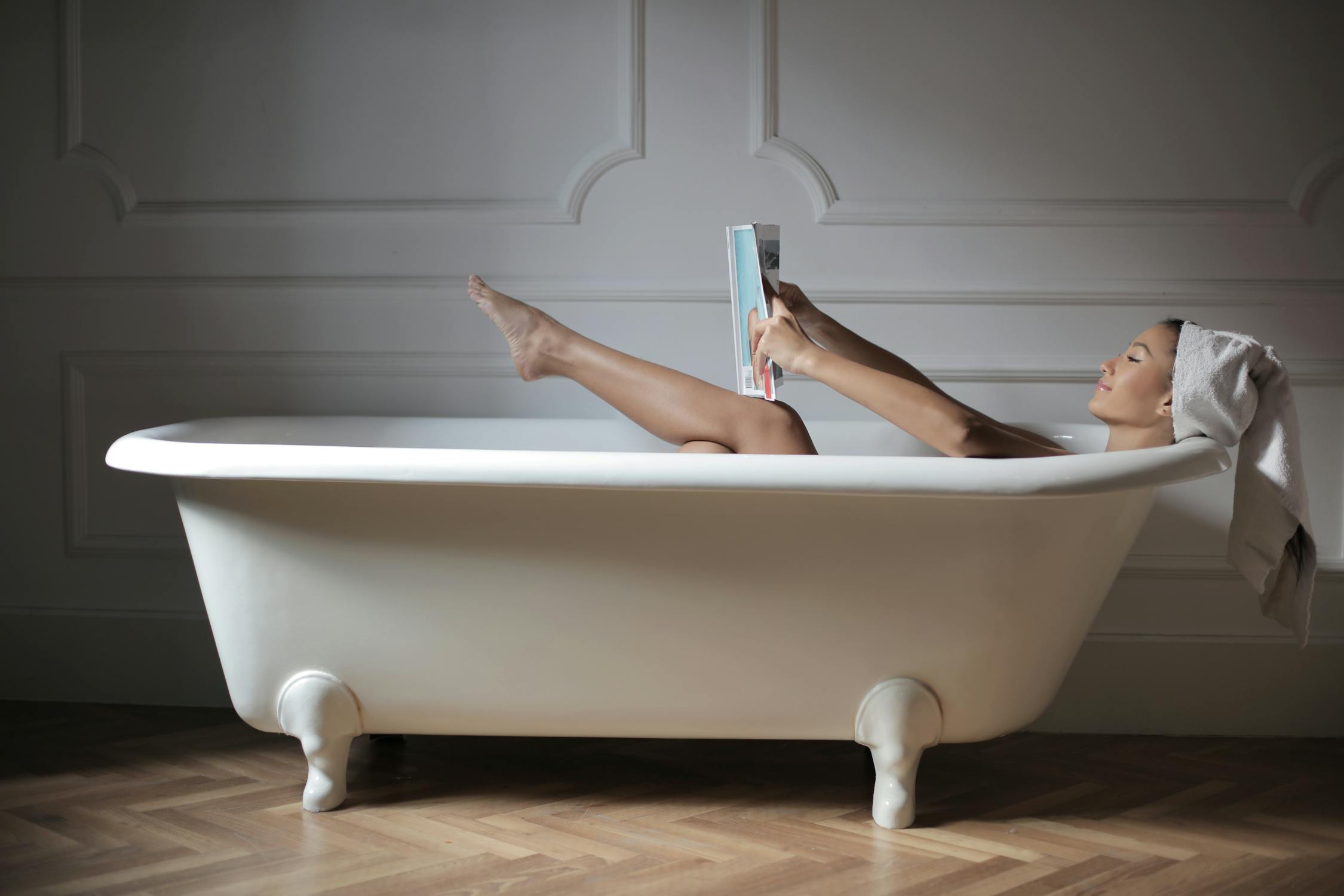 As an Amazon Associate I earn from qualifying purchases.
A clawfoot tub is the perfect way to add elegance and charm to your bathroom. So naturally, you might be curious how much getting one will set you back.
On average, clawfoot tubs cost anywhere from $500 to $2500, depending on the size and type you buy. Cast iron and copper models are usually more expensive, while acrylic tubs are generally more affordable. However, the price of installation may cost you just as much as (or more than) the tub itself.
Below, this article delves into everything you should know about the cost of clawfoot tubs. Along the way, you'll also find out how to choose the perfect one for you.
What affects clawfoot tub price?
Clawfoot tubs vary not only in size but also in materials and design. And these differences have a significant impact on their pricing.
Here are the things that affect the cost of a clawfoot tub:
Material: The material a clawfoot tub is made of is the most important factor in its price. Acrylic tubs tend to cost around $500 to $1500. However, cast iron tubs can be as much as $1000 to $2500.
Size: Clawfoot tubs range from as small as 40 gallons to as massive as 130 gallons. As you might expect, larger tubs will cost you more.
Design: There are several different models of clawfoot tubs to fit your needs. Designs that accommodate two people, such as the "double slipper," are generally pricier. Meanwhile, the classic flat-rimmed models are typically the most affordable.
Installation: Depending on which model you choose, installation can either be a breeze—or cost you more than the tub itself. Heavy tubs, such as those made of cast iron, generally cost more to put in.
Clawfoot tub price breakdown
There are hidden costs to buying a clawfoot tub that you might not realize. For example, installing a tub may require you to do expensive renovations. Not to mention delivery price varies by weight.
To clear things up, below is a simplified breakdown for both acrylic and cast iron tubs:
| Cost Factor | Average cost for an acrylic clawfoot tub | Average cost for a cast iron clawfoot tub |
| --- | --- | --- |
| Clawfoot tub | $1000 | $2000 |
| Installation (professional) | $500 | $2000 (or more) |
| Delivery/transportation | $25 | $100 |
| Total cost | $1525 | $4100 (or more) |
As you can see, there's a massive range in clawfoot tub pricing. And if your bathroom requires renovations before installation, it may cost even more.
That being said, you can opt to install your tub yourself. Doing so may save you money if you have the necessary tools and know-how. But otherwise, you should hire professionals to avoid accidentally causing plumbing issues.
The types of clawfoot tub
So far, this article has only discussed the two most common types of clawfoot tub: acrylic and cast iron. However, other varieties may be a better fit for you.
For example, copper clawfoot tubs are an excellent mid-range option if you want a rustic look. Meanwhile, marble models are the most expensive but also the most luxurious and regal.
Here are the average prices for each type of clawfoot tub:
| Cost Factor | Average cost for an acrylic clawfoot tub | Average cost for a cast iron clawfoot tub |
| --- | --- | --- |
| Clawfoot tub | $1000 | $2000 |
| Installation (professional) | $500 | $2000 (or more) |
| Delivery/transportation | $25 | $100 |
| Total cost | $1525 | $4100 (or more) |
Marble clawfoot tubs are the most pricey option for a couple of reasons. For one, the striking beauty and durability of marble make it invaluable. And secondly, the weight and size of these tubs almost always require renovations.
If all the options above seem too expensive, don't worry—because you can also refinish a vintage tub! Previously-owned antique tubs can sometimes cost as little as $200. So if you're in the market for one, try to scour any local flea markets and thrift stores.
How to choose a clawfoot tub
After learning more about them, you might be excited to go and pick a clawfoot tub out. But before you do, it's crucial to consider a few things first:
Single or double: Planning on soaking in your bathtub with your significant other? If so, consider getting a model designed for two people, such as the double slipper. Otherwise, bath time together will be more cramped than cozy.
Stairs: If your bathroom is on the second floor, you may want to avoid cast iron tubs. Since most models weigh upwards of 300 pounds, getting one upstairs might require professional help.
Bathroom dimensions: Measure the dimensions of where you plan to place your clawfoot tub. That way, you can narrow your search to models that will fit.
Aesthetic: Want to give your bathroom a cozy, rustic look? Then copper clawfoot tubs are the way to go. Meanwhile, acrylic is great for a more refined and modern style.
Are clawfoot tubs worth it?
Clawfoot tubs are an excellent investment that can make your baths feel much more relaxing and luxurious. But that's not the only reason why you should get one.
Here are some other features that make clawfoot tubs worth it:
Home value: Properties with clawfoot tubs may sell for as much as 30% more than expected. As a result, your tub might end up paying for itself in the long run.
Style: Adding a clawfoot tub to your bathroom is a great way to make it feel more lavish.
Comfort: Clawfoot baths come in more ergonomic designs than many standard tubs. They feel more comfortable and can also be better for your back.
Variety: Another great thing about clawfoot tubs is the wide variety of models available. You can always find the perfect match for your bathroom's aesthetic.