Dream Maker EZ Spa: An In-Depth Review (With Photos)

By Jennifer Rhodes · Updated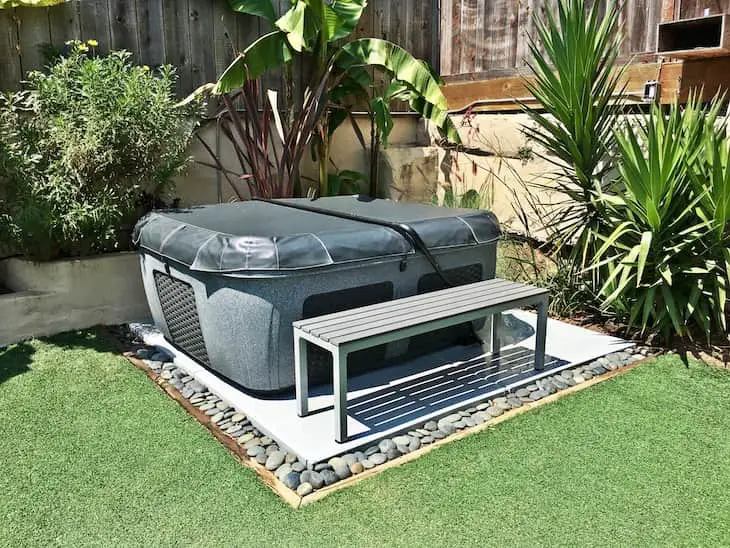 As an Amazon Associate I earn from qualifying purchases.
This is a review of the 4-5 person EZ Spa by Dream Maker Spas. When I bought this spa, there was very little information available about it online, so hopefully this will be helpful if you are considering this or another Dream Maker model.
What is the Dream Maker EZ Spa?
The EZ Spa is a 4-5 person rotomolded hot tub from the Dream Maker Stonehenge Collection. At the time of writing, it's $3,999.00 for the basic spa, not including any of the optional features available.
There's also the EZL Spa which is the equivalent model with a lounger, but I just have the regular EZ model with bench seating.
Specs from the manufacturer:
Seating: 4-5 person with bench and bucket seats
Dimensions: 78″ x 68″ x 32″ / 198 x 173 x 81 cm
Spa Volume: 180 Gallons / 681 Litres
Dry Weight: 280 lbs. / 127 kg
Stainless Jets: 16
Electrical: 120V 15amp / 240V 30/50 amp
Heating: 1 kW / 4kW
Digital Controls: Included
Pump 2.0 HPR: Included
LED Lit Air Controls: Included
EZ Kleen/Convex2 Filtration: Included
Foam Barrier: Included
Cover: Weather Shield
Like all Dream Maker Spas, it came with a 1-year full warranty including parts and labor, plus a 5-year warranty on the shell and structure.
Why did I buy this spa?
When I was shopping for a spa, I had quite specific constraints. I have no rear or side access to my backyard, so I needed a spa that could go up 17 steps and through my 34-inch wide front door.
So the main selling points for me were:
The compact size
The relatively light dry weight
Dream Maker were an established spa brand with a good reputation
What optional features did I get?
There are a few extras you can choose to add at the time of purchase, as well as some accessories and other options in how you run the spa. Here's what I chose for my particular setup:
Factory Installed Ozone System
I chose to add the ozonator, as these are supposed to help with sanitizing the water.
It's hard to say how much this helped as I don't have a comparison spa with no ozonator, but I've always used bromine as my sanitizer, and generally had no problems maintaining the levels.
Factory Installed Ambiance LED Lighting Package
This adds LED rim lighting around the perimeter of the spa, in addition to the lighting you get as standard by the filter: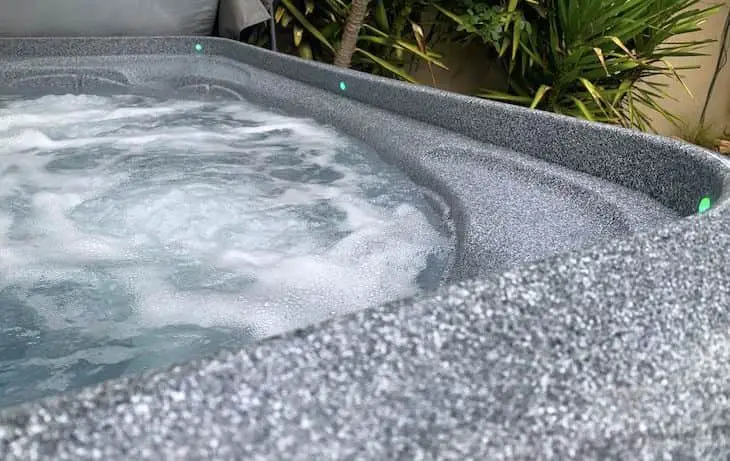 Even though these lights are still above the water level, this addition was 100% worth it as the extra lights make the spa look much better at night.
The spa would be quite dark at night with just the single light it comes with.
Dream Maker Coverlifter
I definitely recommend buying the cover lifter. Although this is a small spa and the cover isn't too big or heavy for an adult to lift, the lifter also keeps the cover off of the ground when the spa is in use.
Without it, it would sit on the ground and could get dirty and/or damaged over time.
240V conversion
The spa comes plug-n-play ready, but I had an electrician install a new 50 amp 240V circuit in my backyard, and convert the spa to use it.
This means I can run the jets and heater at the same time, which you cannot do with the plug-n-play setup.
Doing this conversion was worth it for me, as I don't have to worry about the spa gradually losing heat while I'm using it with the jets on.
What I like about the spa
Solid base keeps rodents out and heat in
This is a feature of rotomolded spas in general, but I appreciate that the shell is sealed all the way around so I don't have to worry about wildlife getting in.
There's obviously no wood to get damp or rot, the shell is self-supporting, and the plastic is very easy to clean and care for.
Large side access panels for easy access to equipment
One of the plastic panels can be removed to reveal the pump and ozonator, and hose attachment for draining the spa.
You do have to be careful when taking the screws in and out, as it's easy to strip the screw threads from the holes because the plastic is so soft.
Varied depth seating for all sizes
The spa has 2 deep bucket seats and then a bench seat opposite for 2-3 people.
The bucket seats are deep enough for the water to come up to my shoulders, and then the bench is higher up which can provide a break from the hot water if you get too warm in the deeper seats.
The bench could also be good for kids who can't or don't want to sit too deep in the water.
Impressive lighting and waterfall for a rotomolded spa
I actually have the 2013-2018 model of the EZ Spa, which has a 'MoonGlo Waterfall' as well as the LED lit filter area.
The lighting is actually pretty good considering this is the only underwater light, but it seems like the newer model no longer has the waterfall.
This is not a great loss in my opinion because although the waterfall is pretty, as soon as anyone enters the spa, the water level rises a few inches which is enough to completely cover the waterfall.
Easily replaceable parts and accessories
The spa has digital Balboa controls, which are not only great quality but also widely available from many dealers: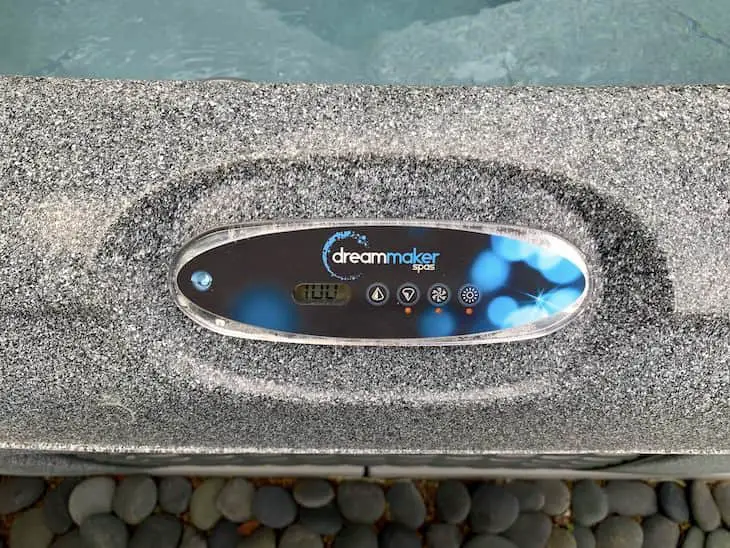 Many more upmarket hot tub brands use proprietary parts, which means you always have to go back to them to buy replacements, often for a lower quality part at a higher cost.
You can easily buy all Dream Maker parts and accessories online, including controls, shell components, jets, filters, plumbing and electrical parts, direct from Dream Maker themselves.
The only things I've needed to buy are of course the filter (which you need to replace about once a year), the weir grill hardware as one of the plastic fittings snapped, and the cover (which I talk about in the next section).
What I don't like
The cover doesn't seal properly
This is my main and only real issue with the EZ Spa. All their spas come with a 'SuperSeal' cover which is designed to sit just inside the rim of the spa (unlike with other spas where the cover sits on top).
The idea is that this creates a seal, and then there's also a skirt over the top to direct rain or debris away from the spa.
The problem is that the cover only 'seals' end to end and isn't wide enough, leaving a couple of inches gap either side: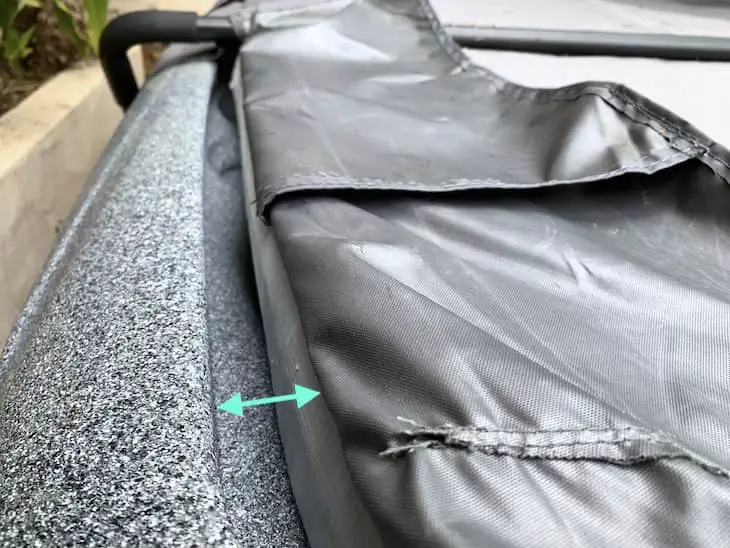 This means not only can the cover leak in the rain and let other debris in, but also that the weight of the cover isn't fully supported by the rim of the spa, so it can drag in the water on one side.
I even bought a replacement cover when the original one became waterlogged, but it had the same width issue.
No cover cap available
To try to mitigate the above problem, I was hoping to buy a cover cap to at least add an extra layer of protection from the rain. Dream Maker used to make these, but they were discontinued.
I may look into getting a custom cover and/or cap made for it at some point, as this is really the only negative I found that is unique to this spa.
Problems not unique to this spa
There are a few other downsides, but these would apply to any small, entry-level rotomolded spa so I don't blame them on Dream Maker or the EZ Spa specifically.
Not many jets
The jets are not very powerful and there are only 16 of them. So although they create a nice bubbly soak, even with the pump on high they're not strong enough to give a real hydro-massage effect.
Water displacement with more than 1-2 bathers
The small size of the spa means that although there's enough seating for 4-5 people, it's hard to actually fit this many in because the water starts to overflow.
You either have to start with the spa filled very shallow (too shallow for a single bather), or accept that you'll lose a lot of water through overflow and have to top up the spa after using it with a larger group.
Do I recommend the EZ Spa?
Overall, I've been very happy with the EZ Spa. It's a great, reliable hot tub and (with the exception of the cover) everything has worked perfectly.
It's also very easy to use, so I'd definitely recommend it as a good first hot tub, or for anyone looking for a spa that isn't too complicated.
Personally, if I wasn't constrained by my limited access backyard, I would probably go with a larger spa just to get more space and better jets. Or if my 80" door had been just a few inches taller, I would have gone for the 82" x 82" Big EZ or Odyssey for the extra capacity.
But if you are on a budget, or have similar space or access issues, you can't go wrong with the Dream Maker EZ Spa.