Hot Tub Bubble Bath: Which Products Are Actually Safe to Use?

By Jennifer Rhodes · Updated
As an Amazon Associate I earn from qualifying purchases.
Hey there hot tub enthusiasts! Are you ready to take your soak to the next level? Well, you're in luck because today we're talking about the ultimate hot tub accessory: BUBBLES!
Now, I know you're probably thinking, "But wait, can't I just use regular bubble bath in my hot tub?" And I'm here to tell you, oh sweet summer child, NO. NO, YOU CAN'T. More on that later.
But let me tell you, once you've experienced the equivalent of a hot tub bubble bath, you'll never go back. Scents can add a whole new level of luxury and relaxation to your soak. Imagine yourself surrounded by thousands of little bubbles, gently massaging your skin and soothing your muscles. It's like a spa day in the comfort of your own backyard.
So, grab a glass of wine, light some candles, and let's get bubbling! Your hot tub (and your muscles) will thank you.
What products can you use in a spa?
So you want to add some aromatherapy to your hot tub to get that bubble bath experience, but don't want to end up with a foamy disaster on your hands? No worries, my friend! There are several spa-safe products on the market that will give you all the aromatherapy benefits without the foam (creating bubbles is the job of your hot tub jets, after all).
1. Liquid fragrance
First up, let me introduce you to the InSPAration liquid fragrances. These bad boys are specifically designed for hot tubs and are a great way to add some aromatherapy to your soak—without any foam.
With InSPAration you can choose from a wide variety of scents, and they come in 9 fl. oz. bottles: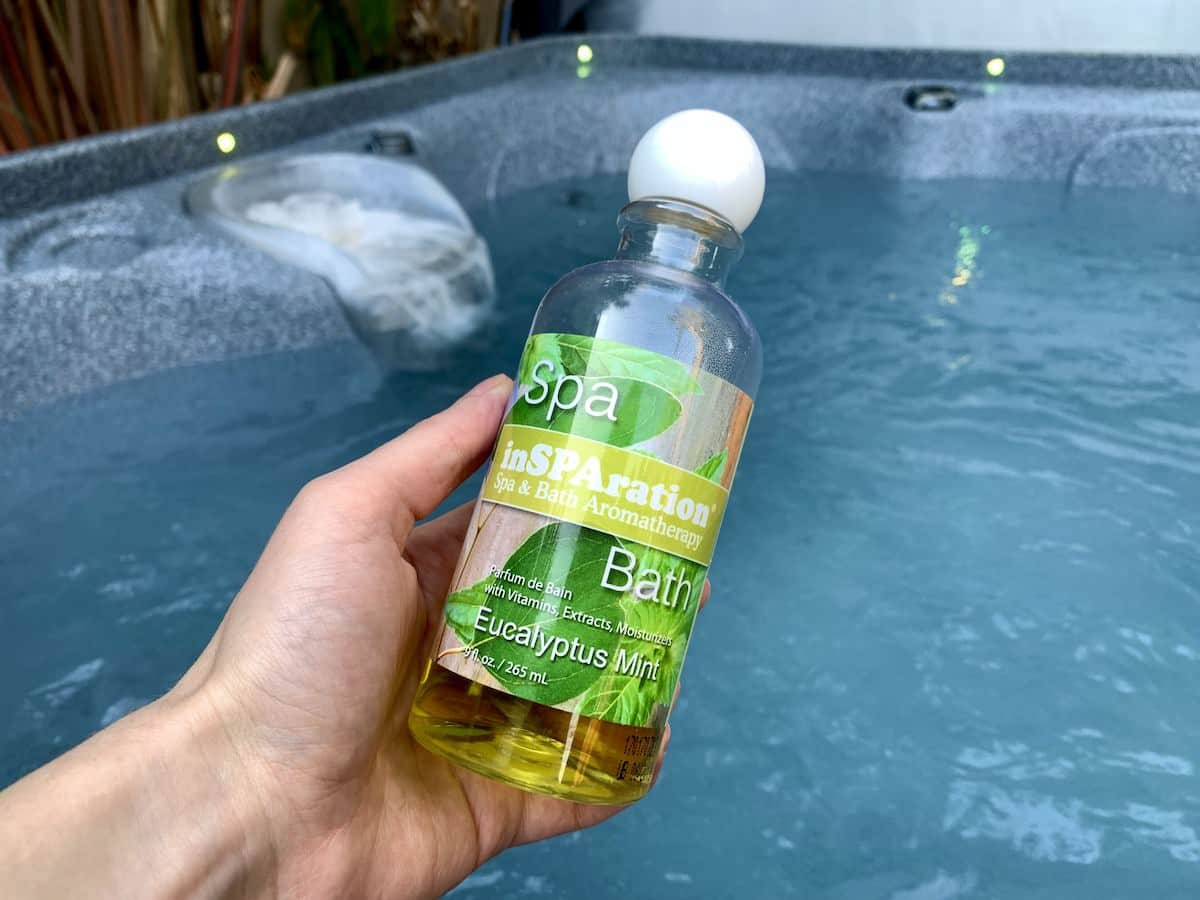 Now, I know you're probably thinking, "But wait, do I have to choose just one scent?" And the answer is NO! They also have a multipack of individual sachets which let you sample many of the scents at once. So you can even switch it up and try a different scent every time you soak:
The InSPAration scents are specially formulated to dissolve slowly and release a gentle aroma into the water, providing a relaxing and soothing experience. Some of their most popular scents include Lavender for a relaxing and soothing scent, Tropical Island for a tropical and fruity scent, and Eucaluptus Mint for a refreshing and invigorating scent.
So, next time you're planning a hot tub soak, why not try out an InSPAration liquid fragrance? Just add a capful or a sachet to your hot tub, and let the aroma transport you to a different place.
If you want to know more, I wrote a full review of my experience trying these fragrances.
2. Spa bombs
Are you more of a bath bomb kind of person? Well then look no further than InSPAration SpaBombs! These look like bath bombs, but are specifically designed for use in hot tubs.
They are pH neutral and water soluble, so they won't disrupt the chemical balance of your hot tub. Plus, they're infused with all sorts of goodies to leave your skin feeling soft and smooth. Vitamins E and C, spa-safe Epsom salts, and aloe vera extract are all included to pamper your skin while you relax in the spa.
You'll find a selection of the same scents as the liquid fragrances, but in a handy bath bomb form. Drop in one of these for a satisfying fizz—and an extra luxurious soak.
3. Spa crystals
Last but not least, a final option from InSPAration is their Aromatherapy Crystals. These crystals are again specially formulated for spas, hot tubs, and jetted baths—and they will change the way you soak.
There are actually two different lines of spa crystals, one with the classic scents you will find in the liquid fragrances, and the Hydrotherapies Sport RX range which is aimed at more active lifestyles. These come in scents like 'Rebuild', 'Stimulate', and 'Energize', so could be worth a try if you like to reap the benefits of a post-workout soak:
InSPAration 7494 HTX Rebuild Therapies Crystals for Spa and Hot Tubs, 19-Ounce
View on Amazon
They use a blend of ingredients that are enhanced with vitamins, minerals, and natural extracts, and will leave your skin feeling super soft. Plus, they can help to mask any chemical odors.
And of course, they are also pH neutral and water-soluble, making them safe for your hot tub and easy on the equipment. They have no oils and will not clog your filters or affect the water chemistry.
Just add a scoop to your hot tub and let the crystals dissolve, releasing the fragrance and nourishing ingredients into the water. Trust me, you'll love how your skin feels and how the aroma enhances your soak.
Can you put regular bubble bath in a hot tub?
Unfortunately not. Regular bubble bath is not formulated for hot tubs, and can cause a huge mess in and around a spa. The same goes for soap, shampoo, or any other foaming detergent.
Why? Let me explain.
First things first, the jets in your hot tub are like little bubble-making machines already. They're designed to agitate the water, which is great for a relaxing massage, but not so great for keeping bubbles under control. When you add regular bubble bath to the mix, those powerful jets turn that bubble bath into a foam party. And trust me, you don't want to be the one cleaning that up.
But it's not just the foam that's the problem. The soapy residue from regular bubble bath could clog up your hot tub's filters, pumps, and other equipment, making them less effective. And when the filters aren't working properly, the water in your hot tub can get cloudy.
So, save the regular bubble bath for your bathtub and invest in some special non-foaming, spa-safe products that are specifically designed for your hot tub.