Should You Put a Hot Tub in Your Airbnb or Vacation Rental?

By Jennifer Rhodes · Updated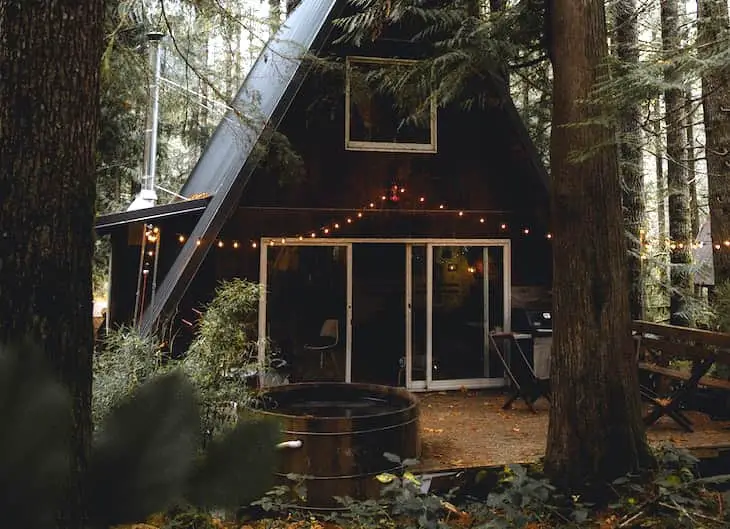 As an Amazon Associate I earn from qualifying purchases.
Whether you're an Airbnb host or you rent out units independently, you know the secret to attracting guests is how you market your property's features. Some make sense, like a well-equipped kitchen and cosy living spaces—but some are a little more out of the ordinary.
Take hot tubs for instance.
While these luxury offerings can certainly make your listing stand out, are they really worth the hassle to install and maintain? And with the extra costs they bring, are hot tubs actually a good return on investment for short-term rental properties?
Do hot tubs in vacation rentals make financial sense?
The first question you'll have is around costs. Here, you're looking at two things: initial installation, and ongoing maintenance costs.
Upfront costs
For a hot tub itself, prices can run anywhere from around $2,000 for the very basic to $16,000+ for ultra high-end models. Aside from the tub itself, you'll have to factor in delivery (often included with the purchase of a new spa), electrical work, and any site prep or specialist installation work that needs to be done to get the spa into position.
While that is a hefty price tag, the average Airbnb could see around a $5,000 annual profit increase from adding a hot tub when you consider the increased occupancy you'll get, plus the higher nightly rate you're able to charge. That means that in just a couple of years, the tub will most likely have paid for itself, and then it's all profit from there.
But markets are different everywhere. Bill May, who owns more than a hundred rental properties in both Hawaii and the mainland US, said that he experienced a $14,000 annual increase in revenue for a single property—simply by adding a hot tub. The hot tub he purchased cost him only $4,000.
Depending on where your property is located, potential guests may pass on a property specifically because it does not have a hot tub. This is particularly true for cabins in the woods or mountain locations like ski resorts.
Purchasing a hot tub for a vacation rental unit can really place the property in a league of its own. Since vacation spots with hot tubs are in higher demand, people will pay more for a place with a hot tub. This is for a simple reason: hot tubs mean luxury.
When your guests are on vacation, there's no greater Instagram shot than them relaxing in the spa with a cold drink. Bonus points if you can offer a hot tub with a view.
Ongoing costs
Multiple factors contribute to the cost of running a hot tub:
Necessary chemicals and related parts like filters can cost around $15-$35 per month, spread over the cost of a year.
Energy costs will vary depending on your local climate, but you can expect to pay $50-$100 per month to power a hot tub.
Repair costs are hardest to predict; some years you may spend nothing, and other years a replacement part could cost several hundred dollars. It's a good idea to budget an extra $100-$150 per month for repairs, even though you may not end up spending it most years.
To keep the water sanitary, hot tubs require regular cleaning and maintenance. If you don't live near your rental or don't want to do this yourself, there are companies in most areas you can hire to take care of this for you on a regular basis.
Consider keeping a log that tracks any major repair work or mechanical servicing, as well as the next time it's due. It's a good idea to have a professional check everything's working as it should in your spa once a year or so.
How to choose a hot tub for a vacation rental
If you've decided adding a hot tub to your property is worth it, you'll be wondering what, exactly, to buy. The choices can be overwhelming at first, so here's a brief rundown of your options.
What type of hot tub is best?
Classic hot tubs are made from an acrylic shell with a wooden base. But these are actually more expensive—not to mention fragile—than some other varieties.
For example, rotomolded plastic hot tubs are a more hardwearing alternative. Being more lightweight, durable, and affordable, they are a great choice for vacation rentals where you can't guarantee guests will always take good care of your property.
Whichever type you choose, stick to a basic model, and skip any fancy features. The more features you have, the more that can go wrong. It will also unnecessarily increase the price of the hot tub.
Other must-haves are a high quality and easy-to-operate cover. In order to keep the water clean and energy costs as low as possible, guests will need to keep the cover on when they're not using the spa. So it's worth making this as easy as possible for them.
How big should a hot tub be in a vacation rental?
Considering hot tubbing is a social event, it makes sense to match the size of the hot tub to your property's average number of guests (or at least get as close as possible). So if your property frequently hosts large groups, go large. But if it's more of a couple's retreat, there's no need to invest in a spa for more than 2-4 people.
Don't forget to also take into account where to position the spa, since regardless of occupancy, it still has to fit on whatever deck or patio space you have available.
The downsides of vacation rental hot tubs
Adding any extra item to your property comes with its own potential set of hassles, and hot tubs are no exception. What if it gets damaged by renters? What if someone is hurt in or by the spa?
Damage and repairs
The best way to minimize the need for repairs is to reduce the risk of damage occurring in the first place. Our advice there is straightforward: pick a basic model of hot tub and supply clear instructions so your guests have the best chance of taking care of it.
That said, sooner or later, something will go wrong. And it's a good idea to be prepared when those cases arise:
Check if the hot tub is covered by any insurance you may have, like Airbnb's Host Guarantee or a policy you have with another provider
Have a local company you can call for repairs at short notice—if there's a problem while guests want to use the spa, not fixing it could earn you a bad review
Legal issues
If you're worried about additional liabilities created by a hot tub, you do have some options.
One strategy is to have a separate guest agreement specifically for the hot tub. Fill it with as many rules as you would like, making it as detailed as you can.
Seek legal advice to confirm that your agreement is valid, and that you've included everything you should.
Some good ones to include are:
Require that there be someone to monitor activities in the spa, typically a minimum of fourteen to eighteen years old
A minimum age a user has to be in order to get into the hot tub, perhaps five years old
A maximum occupancy
A maximum temperature. Most modern hot tubs already limit their temperature to 104°F which is considered the maximum safe temperature
A 'use at your own risk' clause, agreeing not to hold the owner responsible for any injury suffered
Any damages done to the hot tub will be paid in full by the responsible party
Make sure that this agreement is signed in conjunction with the usual rental agreement.
Best practices for running a vacation rental with a hot tub
Aside from the legal matters, a helpful thing to include for your guests is a binder of information on how to operate the spa.
As clearly as you can, list how the features work, how to troubleshoot the hot tub if it's not working—the ins and outs of the whole thing. This will reduce calls to either you or your management company if your guests are having issues getting the hot tub to work.
Another thing to consider is professional signage. Adding a sign by the hot tub reminding guests of your usage rules will increase the chance that they will follow them.
Appropriate use guidelines would include things like:
Replace spa cover and make sure the clips are secure
Refill if the water goes below a certain point—typically you want to make sure all the jets are always covered
Proper hygienic practices, such as showering before and after using the hot tub
No pets allowed at any time—it's not good for pets or the spa
No eating while in the spa, and only drink from plastic cups. If a glass one is brought out, and it breaks, there could be glass left inside the hot tub. Those little shards could cause some real damage to both the spa and its users
Instructions on what to do (how to add sanitizer) if the water smells or looks bad
Do not use bubble bath or soap in the spa—the water will have to be drained, and it could make a huge mess
Include some health guidelines to keep the users safe, such as:
Do not use the spa if you are pregnant
Do not use the spa if you suffer from high blood pressure
Do not enter the hot tub while under the influence of any substance, recreational or prescription (this includes alcohol)
And, of course, if your guests have any questions, comments, or concerns, it's always a good idea to have a contact they can reach specifically regarding the hot tub.
Final thoughts
As you can see, owning a rental with a hot tub is not without its challenges. But you can't argue with the data: rentals with spas are consistently more sought after by guests, not to mention higher income generators than properties without them.
Even though it's a little more effort to manage, the desirability a hot tub can add to your property means it's easily worth it for the majority of vacation rental owners.