11 Ways to Create a Zen Bathroom On a Budget

By Jennifer Rhodes · Updated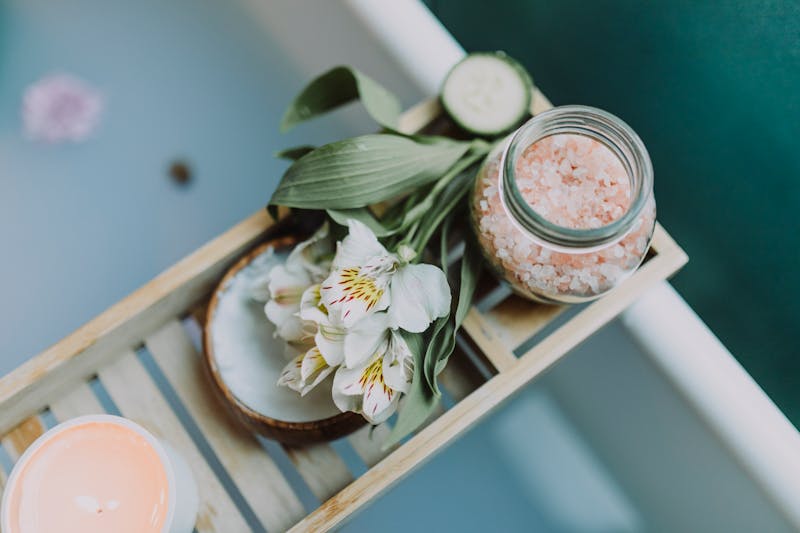 As an Amazon Associate I earn from qualifying purchases.
Who doesn't dream of a bathroom oasis that feels just like a zen escape, right in their own home?
If you are renovating (or simply updating) your bathroom and are looking for that zen vibe, you'll also know that costs can add up quickly if you're not careful. The good news is there are plenty of ways to create the zen bathroom of your dreams—on any budget.
Here are my top tips for how to create that enviable spa-like bathroom you've always wanted:
1. Avoid vibrant colors
When you are going for a zen bathroom vibe, light and bright is the name of the game.
Choose neutral colors whenever possible. This will make the space look big, bright, and clean even if your bathroom is tiny.
Things like vibrant accent walls or patterned feature walls should be left for other rooms in your house. Colors like white, shades of gray, and light tan are all great colors to invoke the zen bathroom mood.
These light colors not only make the bathroom look bigger, but they can also make up for a lack of (or shortage of) windows. If you do want to incorporate some color, go for muted tones like pastels whenever possible. Stick with the same color family and work with the same few colors for a cohesive, zen look.
2. Incorporate plants
Plants immediately up the zen factor of any space. Depending on whether or not you have a green thumb, you have the choice to go with real or fake plants. They bring the feeling of the outside in and if you opt for real plants, they can give the space a fresh, light fragrance as well.
Real plants are definitely preferable because they look the best and are actually good for your environment due to the way they can improve air quality.
Certain plants thrive well in bathrooms because they prefer high humidity environments. Here are a few examples:
Bamboo: Bamboo is a hardy plant that can tolerate a wide range of conditions, including low light levels. It is also known for its ability to purify the air and remove toxins.
Peace lily: Peace lilies are known for their beautiful white flowers and their ability to thrive in low light conditions. They are also effective at removing toxins from the air, making them a great choice for the bathroom.
Philodendron: Philodendrons are easy-to-grow plants that thrive in humid environments. They are available in a wide range of shapes and sizes, making them a versatile choice for the bathroom.
Pothos: Pothos is a low-maintenance plant that is known for its ability to thrive in low light conditions. It is also effective at removing toxins from the air, making it a great choice for the bathroom.
Snake plant: Snake plants are known for their ability to tolerate a wide range of conditions and are particularly well-suited to humid environments. They are also effective at removing toxins from the air, making them a great choice for the bathroom.
It's worth noting that all plants need some sunlight to survive, so preferably find a location in your bathroom that gets some indirect sunlight.
However, if you can't commit to plant maintenance, a good-quality fake plant is also a good option. Look for fake plants that look real and are in chic containers to get the most bang for your buck. Just pick up a few to start with so you don't blow your whole budget on accessories.
3. Less decor is more
Although it can be tempting to pick up cute decorative touches to place on open surfaces like the vanity, the back of the toilet, or on shelves around your bathroom. When it comes to bathroom decor, your best bet is to keep it simple.
Get some floating shelves where you can display a few decorative items like a small plant, candle, or aromatherapy diffuser. You also could select some pretty, neutral artwork for open wall space that needs something.
Keep all other surfaces focused on the essentials. Avoid cluttering the space with decorative elements and choose simple designs for things like faucets, toothbrush holders, soap dishes, and more.
4. Make windows the focal point
If you have a window in your bathroom, make sure you use it to your advantage. Light is the key to making your bathroom look zen, open, and beautiful.
You want to make sure that the window is the first thing you see when you enter your bathroom.
Draw attention to your window by placing decorative elements like plants directly under or near your window. If your tub is directly under the window (see the pros and cons of that here), keep the area clean because people's eyes will gravitate there naturally.
While good quality shades are essential for privacy, you won't always want to have the shades drawn to make the most of your bathroom's new vibe. Choose sheer window coverings, or at least make sure they can easily be swept or pulled back to let the natural light come in.
5. Use sumptuous bath linens
One place that you shouldn't skimp on is the linens in your bathroom. You can cut corners with things like decorations and window coverings if you shop smart, but linens like towels and bath mats should be the place where you are prepared to spend a little bit of money.
You can still shop sales to try to save money on your bath linens, but nothing beats the feeling of a plush bath towel to wrap around your body after a bath or a luxurious bath mat to sink your toes into as you stand and wash your face at night.
This set from White Classic would be perfect:
White Classic Luxury Bath Sheet Towels Extra Large | 35x70 Inch | 2 Pack (Silver)
View on Amazon
They are soft, thick, and luxurious.
6. Add a teakwood shower caddy
A teakwood shower caddy is a great way to create a zen bathroom on a budget because it adds a natural and organic element to the space. The warm, golden tones of teakwood are calming and inviting, and the wood's natural resistance to moisture makes it a practical choice for use in the bathroom.
Plus, a shower caddy is a functional and affordable way to organize your shower essentials, which can help to declutter the space and create a sense of calm.
This one by TeakCraft is both beautiful and practical:
TeakCraft Teak Shower Caddy, Shower Organizer For Bathroom, Non Slip, Indoor and Outdoor, Hanging Shower Organizer, Showerhead, 3 Shelf, The Thoren
View on Amazon
7. Opt for a a rainfall shower head
A rainfall shower head is another great way to create a zen bathroom on a budget. The experience of standing under a gentle rain shower can be incredibly relaxing and rejuvenating, and it's a simple way to bring a spa-like experience into your own home.
Rainfall shower heads come in a range of styles and prices, so you can choose one that fits your budget and personal style.
Rain Shower Head - Voolan 12 Inches Large Rainfall Shower Head Made of 304 Stainless Steel - Perfect Replacement For Your Bathroom Showerhead
View on Amazon
In addition to their calming effects, rainfall shower heads can actually be more efficient than traditional shower heads, as the large surface area of the head allows for better water coverage and can reduce the amount of water used.
8. Get an aromatherapy diffuser
Aromatherapy is the practice of using essential oils to enhance physical and emotional well-being, and diffusing the oils into the air is a simple and effective way to experience their benefits.
There are many different types of aromatherapy diffusers to choose from, including electric diffusers, candle diffusers, and reed diffusers, so you can find one that fits your personal preference and budget. I love this one because of the variety of different oils it comes with:
Ultimate Aromatherapy Diffuser & Essential Oil Set - Ultrasonic Diffuser & Top 10 Essential Oils - Modern Diffuser with 4 Timer & 7 Ambient Light Settings - Therapeutic Grade Essential Oils
View on Amazon
In the bathroom, an aromatherapy diffuser can help to create a calming and soothing atmosphere, and the pleasant scents can also help to mask any unpleasant odors.
9. Invest in a bath pillow
A bath pillow is a great way to add a touch of luxury to your bathroom and create a more relaxing and Zen atmosphere. They provide support and comfort for your head and neck while you soak in the tub, allowing you to fully relax and unwind.
There are many different types of bath pillows to choose from, including inflatable pillows, foam pillows, and memory foam pillows.
I love this luxury option from Savvy Comfort:
Savvy Comfort Luxury Bath Pillow for Head and Neck Support
View on Amazon
In addition to adding comfort, a bath pillow can also help to prevent wrinkles and creases on your face and neck while you soak, making it a practical and beneficial addition to your bath time routine.
10. Consider a wooden shower mat
Wood has a natural and organic appearance that can help to bring a sense of calm and warmth to the space. A wooden shower mat can add a touch of nature to your bathroom and create a more inviting and soothing atmosphere.
In addition to its aesthetic benefits, a wooden shower mat is also practical and functional. Wood is naturally slip-resistant, making it a safe choice for use in the shower.
Plus, many wooden shower mats are made from durable materials that are resistant to water and mold, making them an excellent choice for use in the bathroom. If you're curious to learn more about their benefits, check out my other article on wooden bath mats.
11. Shop discount retailers and sales for big items
If you need to replace any large items in your bathroom as part of your zen bathroom makeover, shop smart. Most bathroom supply stores and home improvement retailers have frequent sales where you can save quite a bit of money on everything from new tubs and toilets to towel racks and faucets.
These larger items are always going to cost more than the fun things like linens and decor, so it's important to prioritize your budget to make sure you get what you want without overspending.
Compare local stores and online retailers to see if you can find duplicates of your favorite rainfall showerhead or waterfall faucet at a fraction of the price of the one you saw on Pinterest.
Final thoughts
When you want to create a zen bathroom vibe, it's easy to get overwhelmed trying to figure out how to make the bathroom of your Pinterest dreams without breaking the bank. But if you shop smart and keep your focus on the end goal, you can make it happen with a few handy tips.