The Best Robes to Wear to (and from) Your Hot Tub

By Jennifer Rhodes · Updated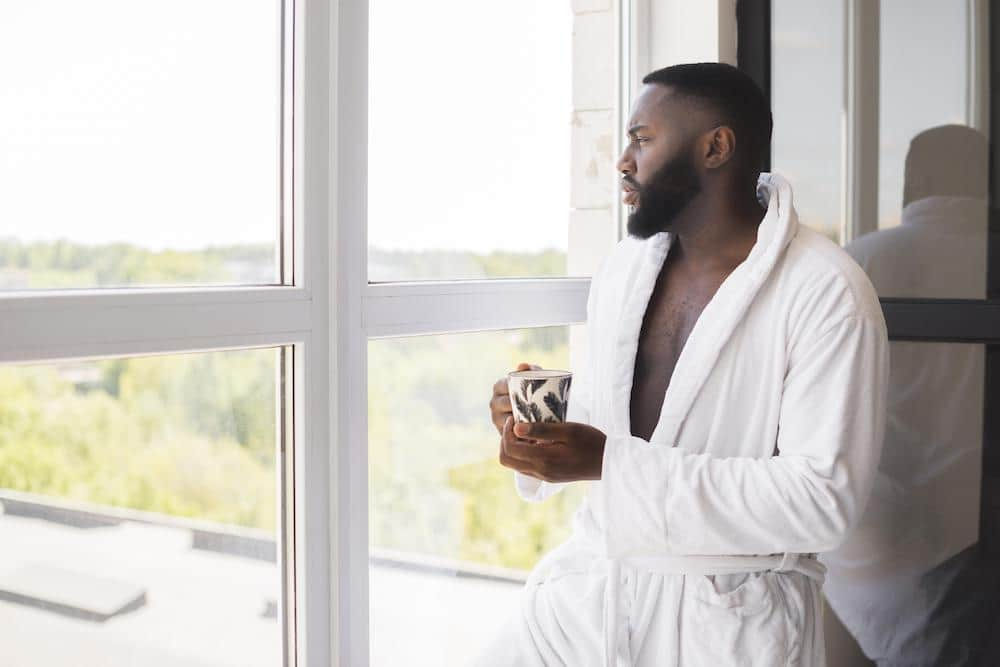 As an Amazon Associate I earn from qualifying purchases.
Hot tubs are the ultimate luxury, but having the right robe to wear to and from your spa can really make or break the experience—no one likes to scurry back to the house clutched in a towel, right?
If you're in a hurry and just want to grab a hot tub robe quickly, we recommend the Classic Turkish Towels Luxury Terry Cloth Robe. It was our favorite robe overall, based on all the criteria we considered.
How we picked
We used four factors when judging robes to determine the best ones for hot tub use:
Texture
In the theme of keeping up appearances, you want a robe that has a quality texture. And because you'll be using the robe around your hot tub, it's also important to choose an absorbent material like microfiber or cotton terry.
Comfort
As the hot tub lifestyle is all about comfort, this should be reflected in your choice of bathrobe too. We kept that in mind, so you won't be disappointed with what we have picked for you!
Design
There are various hot tub bathrobe styles to choose from. We wanted our top recommendations to have designs that appealed to everyone. From kimono designs and hooded robes to robes with pockets and shawl collars, you can be sure to find something that suits your personal preference and style.
Cost
We get it—cost is an important factor for most purchases these days. Fortunately, we managed to find some great bargains that won't break the bank. Overall, our picks cover a wide range of costs to suit any budget. If you want to splurge, go ahead, but if you want something more affordable, then check out our budget pick.
Best for everyday use
This robe made the top of the list because it has everything most people need for getting to and from a hot tub. For starters, it's made from soft and absorbent 100% Turkish terry cotton, that feels practical yet also luxurious.
If you need a hot tub robe for regular use, then you can't go wrong with one of these cozy yet lightweight unisex robes. They are affordable and easy to care for (simply machine wash on either a warm or cold cycle), making them suitable for use over and over again.
Depend on one of these for those everyday soaks in the hot tub—they won't let you down.
What we loved
Super easy to wash and dry
Impressively wide color selection
Shawl collar keeps you warm when moving around
Pockets for taking the essentials out to the spa with you
What we didn't
Might not be sophisticated enough for fancy occasions
A little thick/heavy for the summer months
Best for winter
Most of the robes we tested are unisex, but this one actually has separate women's and men's versions. Snuggle up in comfort with these full length robes during the winter months:
Winter is the perfect time to soak yourself in the hot tub. But in these conditions, it's especially important to stay warm outside of the tub. Luckily, these snuggly extra long robes have you covered.
The robes are made from 100% high grade cotton fiber grown in the Aegean region in Turkey, and have a wide cut design which ensures the front part of your body won't be exposed to the cold either.
What we loved
Heavyweight and thick fabric keeps you warm whenever you're outside the spa
Extra long length protects your legs from the chill
Hood to cover your ears, head and neck
Cozy shawl neck for extra warmth
Huge color selection
What we didn't
Confusing to order (be sure to select the Extra Tall option in the men's version if you want a long robe)
Sheds a little at first
Best for comfort
This robe is lined with microfiber that's designed to feel soft and luxurious when it rubs against your skin. It also has a great design that features patch pockets, an additional breast pocket, and an adjustable belt.
What we loved
Lined with microfiber for the ultimate comfort
Padded shoulders for shape and softness
Three pockets if you need room to store anything as you move about (phone, book, makeup for those mid-soak touchups)
Generous size that feels comfy on most frames
What we didn't
Might be too big if you have a small frame
On the pricier side of the robes we tried
Best for parties
If you are hosting a hot tub party then you need to look the part, and that means sophisticated and elegant. These robes are made from high quality, imported cotton that's guaranteed to make you comfy as you enjoy the fun.
What we loved
You get 2 robes, so a great choice for couples
Elegant embroidery (can be personalized too—these are not just for weddings!)
Soft and absorbent terrycloth lining
Stylish design
High quality material
What we didn't
Waffle fabric is on the thinner side, not really suitable for colder conditions
Embroidery may not be to everyone's tastes
Best budget
This White Classic 100% cotton bathrobe is suitable for both men and women, and the dimensions ensure most people will be cozy and snug as they move around.
Additional features we loved include a shawl collar, two large pockets, and a waist belt enclosure. Plus, the oh-so-cozy terry interior for comfort, contrasted with a stylish waffle exterior was also a very nice touch.
All in all, while this robe won't give you the luxury of some of the others we tried, it certainly gives you value and comfort for your buck.
What we loved
Softer and more durable than standard cotton
Adjustable waist belt that secures the front, so you can move around confidently
Two front pockets to keep your hands warm or hold essential items
What we didn't
Cheaper feeling material
Only available in a roomy L or XL, so smaller folks should check the dimensions before buying
FAQs
What do you wear in a hot tub in the winter?
The water is going to keep you warm while you're actually in the spa, so you can wear whatever you normally like to wear in a hot tub. However, to avoid getting cold on the way to and from your hot tub, be sure to have a cozy robe on hand.
What is the best robe for a winter hot tub?
In the coldest conditions, you need to minimize your time exposed to the air when you're getting in and out of your tub. You also need a robe that's going to keep you as warm as possible when you venture outside.
Our top pick for winter hot tub sessions is the Arus Full Length Hooded Turkish Cotton Bathrobe. These ankle-length snuggly hooded bathrobes will keep you warm and cozy in chilly weather as you move to and from your hot tub.
What is the most comfortable bath robe?
When it comes to robe comfort, you need to consider thickness, softness, overall fit, and absorbency.
We like the Plush Lined Microfiber Spa Robe. It has a lightweight design that gives you a spa-level style of comfort. You can scroll up to learn more about this particular robe.
How do I choose a bathrobe?
You can take a leaf from our book and look at factors including texture, comfort, cost, design, and style to find the bathrobe that's right for you.
While it largely depends on your usage, our best for everyday use pick—the Classic Turkish Towels Luxury Terry Cloth Robe—is a good universal option for most people.
Final thoughts
Need a robe to keep you warm and covered when taking trips to and from your hot tub? The Classic Turkish Towels Luxury Terry Cloth Robe is our top pick because it offers style, comfort, and great value in one affordable package. It's a great all-around choice, but do keep in mind that one of the other options could work even better for you.
Oh and one more thing: don't forget slippers! If you'd like to know what slippers we recommend, check out our post on the best hot tub slippers which has several options that would pair perfectly with each of the robes on this list.
Overall, we hope you had fun browsing our choices, and that you find something to suit both your spa needs and unique style!