5 Of the Best Hot Tub Slippers: Comfort, Durability & Performance

By Jennifer Rhodes · Updated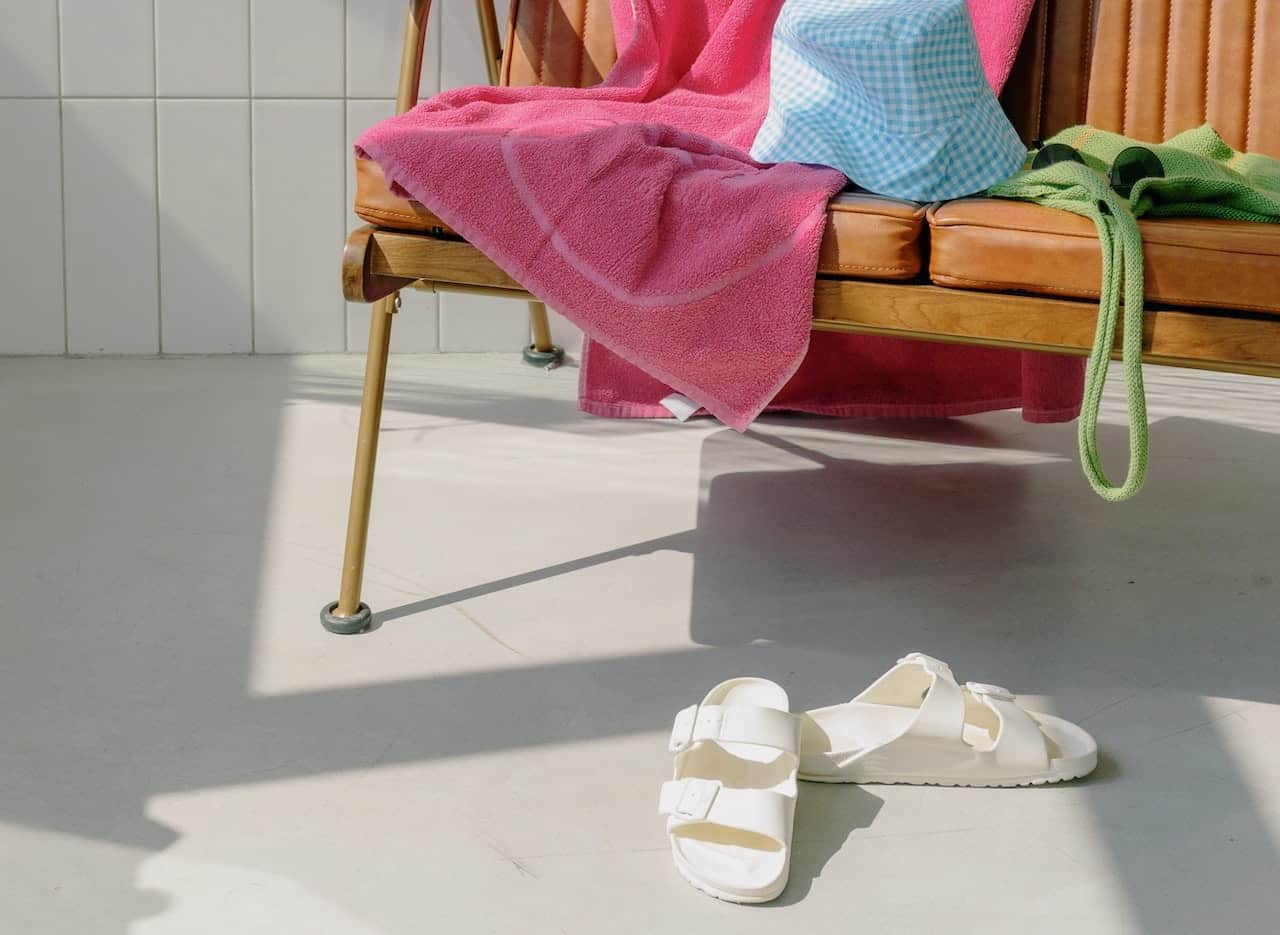 As an Amazon Associate I earn from qualifying purchases.
Having a good pair of slippers to wear on your way in and out of the hot tub can make all the difference. After all, nobody likes having to walk over cold ground in the winter with bare feet, or trekking dirt and grime into the spa (or your house).
But with the right hot tub slippers, you can stay comfy, avoid slipping, and properly relax when you're done with your soak.
If you want my top pick for hot tub slippers that are comfortable, versatile, and will last you a long time, the Birkenstock Unisex Arizona EVA Sandals are the way to go. They're my personal go-to and have been for years as a spa owner, and I can confidently say they're the best in the biz.
What to look for in hot tub slippers
Here's what I consider the 100% non-negotiable, must-have qualities in a good hot tub slipper:
Easy to slip on and off (no complicated straps or laces)
Durable, waterproof materials
Comfy interior soles (you'll be wearing them with bare feet, after all)
Grippy exterior soles
So, with these things in mind, I'm going to share my recommendations for the best hot tub slippers, with different types of people and occasions in mind. All are comfortable, water-resistant, and long-lasting—without compromising style.
Don't forget about a robe to go with your slippers! I share some ideas for great hot tub robes in my other post.
I'll highlight the best features of each pair, plus how they hold up when they come into contact with water. I'll also compare them so you can see their distinctive qualities, and decide which ones are the best fit for your spa use.
Best overall: Birkenstock Unisex Arizona EVA Sandals
Birkenstock Unisex Arizona EVA White Sandals
Comfortable, waterproof & unisex
View on Amazon
Alright, first up, the one brand that has my heart when it comes to hot tub slippers: Birkenstock. And let me tell you, the Unisex Arizona EVA Sandals are my absolute favorite. I've been rocking them for years as a spa owner, they're that good.
First off, they're Birkenstock, so you know they're made to last. But unlike their traditional models, these are made from a waterproof EVA material that can withstand the moisture of a hot tub environment. Plus, they're even more lightweight and flexible, so you can slip them on and off with ease—perfect for those quick hot tub dips.
But the real magic is in the footbed. It's contoured so it molds to your foot shape, giving you a level of comfort that's unmatched. Studies have shown that a supportive footbed has numerous benefits for foot health. Plus, the non-slip sole is a lifesaver, you won't have to worry about slipping and falling.
And the best part is these bad boys are unisex, so they're perfect for both men and women. They also come in a huge variety of colors, so you can find the perfect match for your personal style. Plus, they're not just for hot tubbing—you can rock them at the beach, pool, or even the shower.
For women: CUSHIONAIRE Feather Slides with +Comfort
CUSHIONAIRE Women's Feather recovery cloud pool slides sandal with +Comfort, Vanilla
Lightweight slides for cloud-like comfort
View on Amazon
These Cushionaire slide-ons are a dream for slipping on and off as you enter and exit the spa. Their foam soles provide cushy comfort, while the outer material provides a waterproof footing that is still flexible.
This is the perfect comfy-cozy hot tub slipper for women that is sure to dry quickly and keep your feet fresh.
These open-toed slides have a sleek design, too. You certainly don't have to compromise your sense of style, as you can pick from 20 varied color options. What's more is that the 1.75-inch platform heel of the slipper makes it versatile enough to be a fashion statement even when you're just around the house too.
Other unique features include the non-slip exterior for safety, and the molded footbed that makes breaking in your slippers a thing of the past.
The one thing about these slippers that could get in the way of your fun is also actually the platform heel design. Although it's fashionable and unique, it could also have the potential to become a hazard near the hot tub if you don't dry off your feet first.
For men: Reef Waterproof Sandals
Reef Men's Sandals, Reef One Slide, Grey/Tan
Machine washable for convenience
View on Amazon
When it comes to men's hot tub slippers, on the other hand, you've got to check out this Reef waterproof pair. Made with synthetic materials that contour and mold to your feet, they'll be broken in in no time. You can start enjoying their comfortable fit right away.
These reef shoes are great for wearing and slipping off just before you hop in the hot tub (at home or at the spa), and they're durable enough to take to the beach, too. Although they're lightweight and soft, they're still quite durable.
One of my favorite things about this pair of open-toed sandals is that they are machine washable. That's right, you can stick them in your washer at home without having to worry about shrinking and distortion!
Unfortunately, my husband wished these shoes had an adjustable strap, but they don't. The one-size strap is designed for fairly narrow feet, which you should keep in mind if you have wide feet.
For winter: UBFEN Indoor/Outdoor Slippers
UBFEN Men's Women's Winter Warm Slippers with Fuzzy Plush Lining Slip on House Shoes with Indoor Outdoor Anti-Skid Rubber Sole
Unisex with a cozy, durable design
View on Amazon
This pair of slippers is a bit different than the others on this list—but for good reason. If you want an ultra-comfy slipper with a closed toe, you should look into these. The rubber sole and waterproof exterior keeps your feet dry while the fluffy interior lining keeps them extra warm.
This is why these are a great pick for wintertime adventures, like hopping in the hot tub after a long day on the ski slopes. Or perhaps you also want something warm to slip on while you go to fetch the mail or walk your dog in the snow. You can do that with these slippers, too!
I love that these slippers are unisex with a simple design, so that pretty much anyone can wear them. They've got a thick, durable bottom sole that stands out when compared to the other slippers on this list. And, they even come in a range of 15 vibrant color choices.
The only thing that might be seen as a drawback is the fact that the fluffy lining is not waterproof, and could be a cause of cold feet if it gets wet (which could happen in deep snow).
For guests: Yeios Hotel Spa Slippers
Hotel Spa Slippers Closed Toe Home Guest Slippers for Adult 20 Pairs for Men and Women White
Simple bulk buy for guests
View on Amazon
My final recommendation is for these simple Yeios "hotel" spa slippers—having a box of these at home is a really great idea if you don't want to let your guests borrow your nicer slippers (or make them go barefoot). These slip-ons are also a comfy option if you're on a budget, and with 20 pairs in the box, you'll be buying in bulk for as many guests as your house can accommodate!
The cotton-polyester blend of the slipper fabric is cozy enough to keep toes warm without suffocating your feet.
Whether you want your guests to slip these on when they come inside to use the restroom after leaving the hot tub, or you simply want to keep your floors clean by asking them to wear slippers outside, these will work. They've got a non-slip grip on the bottom with a basic white design that both men and women can wear.
Sadly, these shoes aren't 100% waterproof like other hot tub slippers on the list. However, they are still an affordable, effective quick fix to eliminate dripping feet walking dirt into your home.
The bottom line
Okay, so let's wrap this up! Having a pair of hot tub slippers is a game changer when it comes to hot tubbing. No more cold feet on the way in and out, no more dirty footprints all over the place, and most importantly, no more slips and falls. The key is finding the right pair.
Whether you're all about that non-slip sole and cozy lining for the winter, or you just want something made of comfy, durable materials, or even something disposable and perfect for one time use, there's a hot tub slipper out there for everyone.
So what are you waiting for? Grab yourself a pair, and let the good hot tubbing times roll!