EZ Pad Review: Prep, Installation & Performance (With Photos)

By Jennifer Rhodes · Updated
As an Amazon Associate I earn from qualifying purchases.
I bought an EZ Pad in back 2017 when I installed a Dream Maker EZ Spa in my backyard.
In this review, I'll cover what the EZ Pad is, the installation process, and how it's held up as a base for my hot tub over the years.
What are EZ Pads?
EZ Pads are ready-made interlocking synthetic pads which are designed to be used as a base for hot tubs and swim spas.
From the manufacturer:
The EZ Pad hot tub/spa pad provides a solid level foundation base that evenly distributes the weight of the hot tub, required for warranty compliance and for optimal performance of the jets and filtration system.
They are a simple, portable and cost-effective alternative to other more permanent options, like concrete or gravel pads, or putting your hot tub on a deck.
How thick are EZ Pads?
EZ Pad panels are 2 inches thick, and made of a heavy gauge HDPE plastic with a hollow, blow-molded construction.
This makes them very light and portable, but also strong enough to support almost any type of spa.
Did you know? EZ Pads are tested to 5,000 lbs per square foot.
Statistics like this are more useful with context. As an example:
The Hot Spring Vanguard is a 6-person spa which weighs 4,540 lbs when filled
The average weight of an American man is 197.9 lbs
At full occupancy with 6 adults, that spa would weigh 5,727 lbs
The footprint of the spa is 7'3"x7'3", so that gives it a weight of less than 109 lbs per square foot—well within the EZ Pad's limits!
Even large swim spas only weigh up to around 150 lbs per square foot.
How do you install an EZ Pad?
EZ Pads provide full installation instructions on their website, but here are the details of how I installed mine.
Site prep
One of the great things about the EZ Pad is that you don't have to get a concrete base installed—the material under the spa pad can be concrete, pavers, grass, dirt, sand, gravel, crushed rock or granite.
You still need a flat, level surface for a spa pad, with good drainage to avoid any chance of flooding.
In my case, I had a square hardpack/dirt patch in the corner of my yard that had previously been used for seating around a fire pit: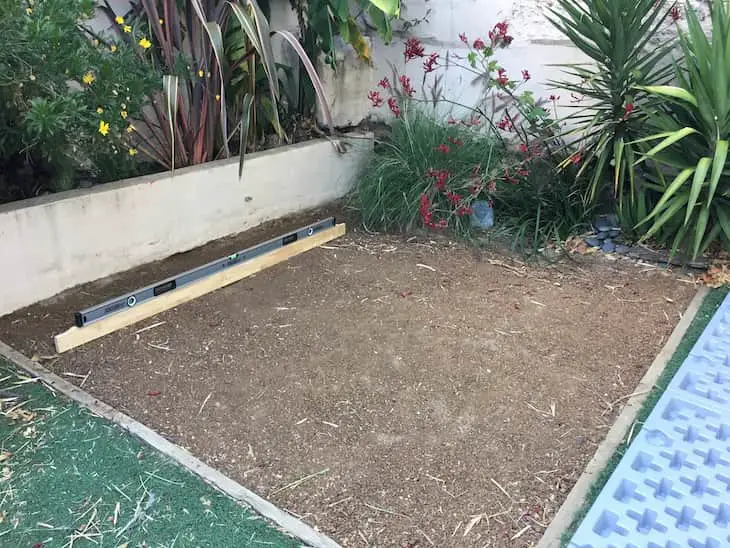 If you don't already have a flat area of at least 8'x8' (the size of the regular EZ Pad), this is something you'll have to do before installing your spa, whether you go with the EZ Pad or not.
Assembly
Once you have prepared a level surface, you can assemble the pad.
The standard 8'x8' EZ Pad comes as a set of four 2'x2' panels which fit together to form the larger square.
Assembly is easy; the panels attach to each other with plastic connectors. These need to be screwed to the underside of the panels: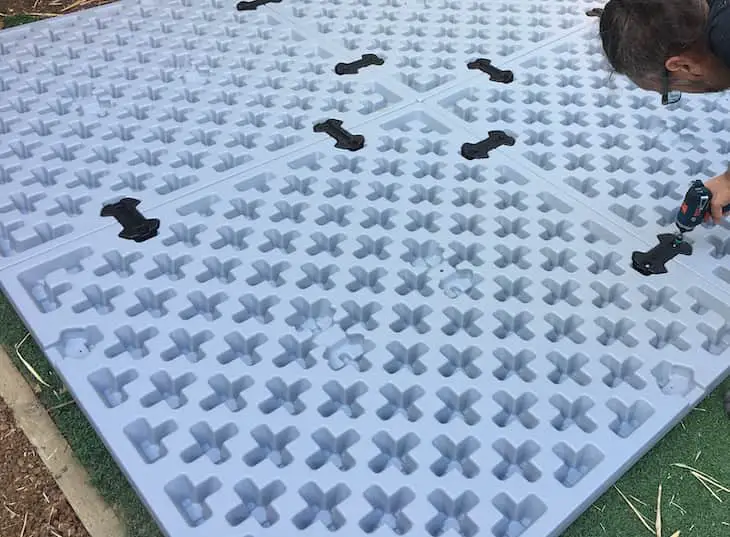 You will need a screwdriver for this part, but that's really all that's required. Once the pad is assembled, just flip it over and move it into place.
EZ Pads are modular, and can be made into bases larger than 8'x8'. EZ Pads do not recommend trying to flip over groups of more than 6 panels (8'x12') at once though; they have more info on how to assemble larger EZ Pads on their site.
My EZ Pad in its final position: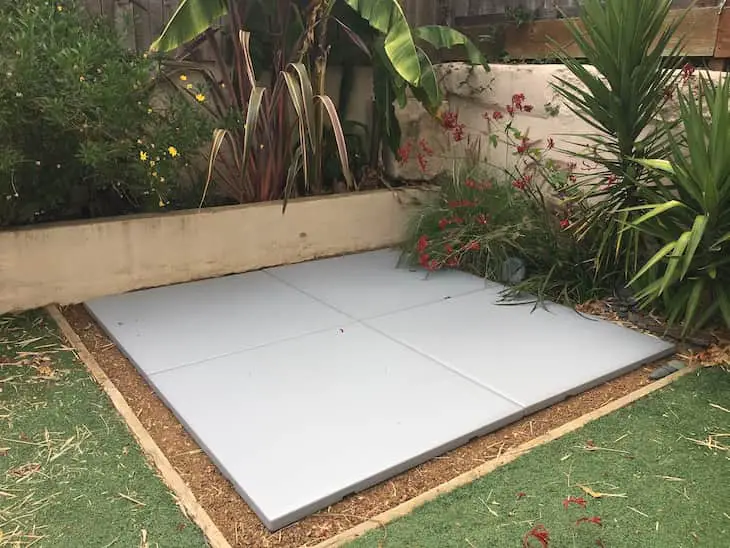 Are EZ Pads good?
So, do I recommend the EZ Pad? In short, yes! I have had a great experience with it so far.
Here's what I like about the EZ Pad:
Sturdy spa base: It has not cracked or bent, and has supported the weight of my spa with no problems.
No need for a concrete pad: I was able to avoid the hassle of scheduling contractors to build a permanent foundation.
No permits or inspections needed: It's not permanent, so I didn't need to worry about getting a permit.
Quick to install: An adult with a screwdriver can put it together in just a few minutes.
Customer service: The first EZ Pad I ordered got lost in transit, and the company were very helpful and sent a replacement immediately.
Lifetime guarantee: I have not needed to use this, but it's nice to know it's there.
How could it be improved?
Color selection: The EZ Pad only comes in one color at the time of writing, which is a concrete-like gray. This was fine for me but could be limiting if you'd prefer it to blend in with a different surface.
Cleaning: The surface is textured, which means that over time, dirt can build up on the surface of the pad. It can take some scrubbing or pressure washing to get it looking clean again.
Raised corners: I have a smaller spa, which means the corners of the pad are unloaded. There is a note on their website that explains how thermal expansion can cause unloaded corners of EZ Pads to lift slightly, and I did experience a mild case of this. I was able to fix it by pinning the corners down with some landscape staples.
Overall, the EZ Pad was an inexpensive and hassle-free way to get my site ready and my spa in place quickly, and has also held up well over time.
If you have a mostly level spot that doesn't otherwise need any work to get it ready for a spa, I'd say the EZ Pad is a great option for getting a foundation in place quickly.