10 Relaxing Bath Ideas to Help You Unwind After a Long Day

By Jennifer Rhodes · Updated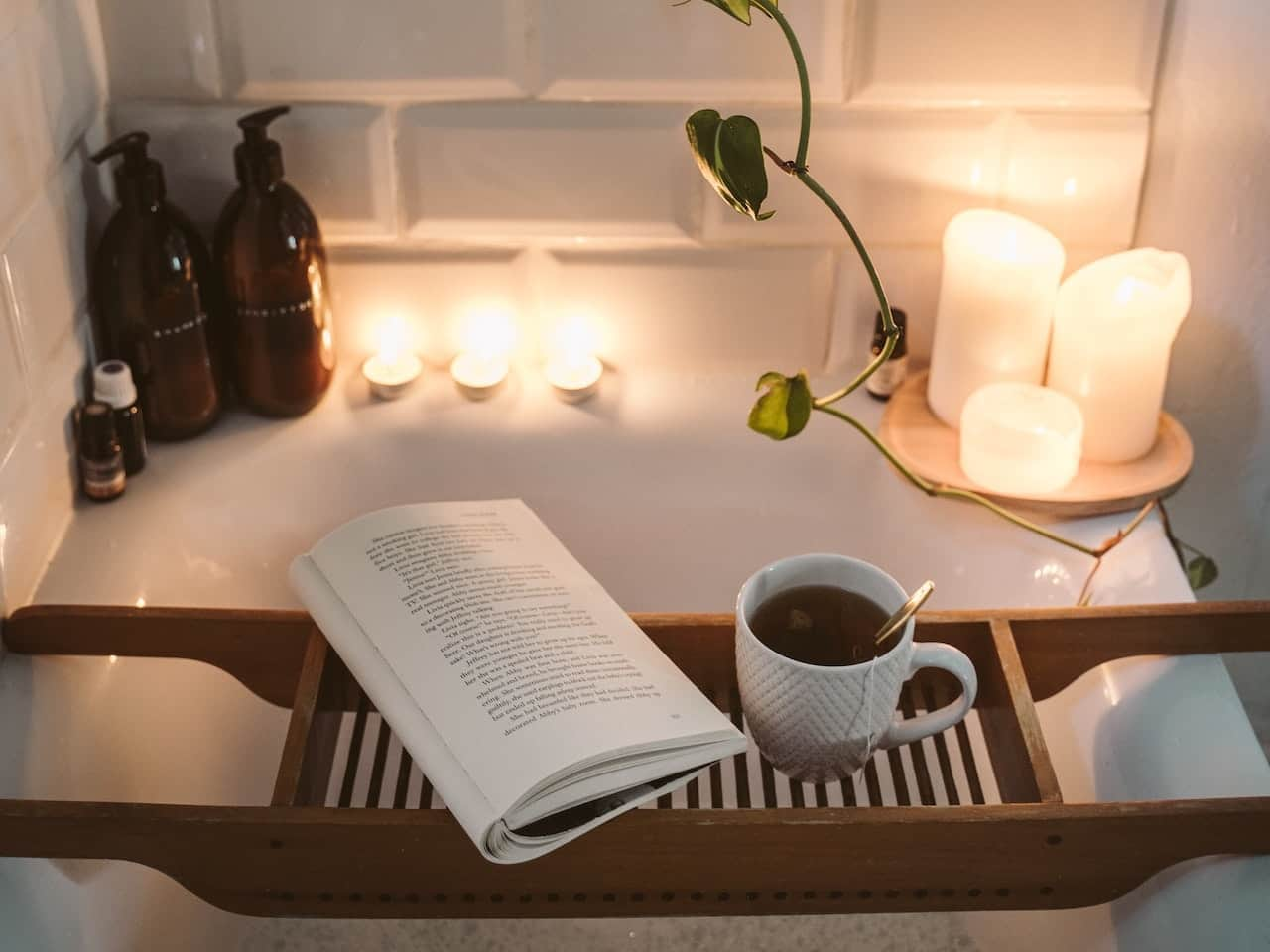 As an Amazon Associate I earn from qualifying purchases.
Yes, massages and spa retreats are the best—we know. But they also involve parting with our hard-earned cash and taking time out of our busy schedules to enjoy. Sometimes, all you need is a relaxing, bubbly hot bath to help you unwind after a long day at the office.
Did you know that a relaxing bath actually has quite a few benefits? Aside from helping us switch off, a warm bath can help our bodies to relax and boost feelings of calm.
So, whether you're a bath bomb lover or only enjoy taking a dip from time to time, here are 10 relaxing bath tips that will help you unwind after a long day.
1. Make the most of a bath caddy
When you're in the bath, the last thing you're going to want to do is hop out to grab something you forgot. A bath caddy (or bath tray) is a portable platform that sits across the top of your tub and allows you to keep all your essentials to hand. Before you start running your bath, set everything up so that you can hop in and relax straight away.
Some key things to keep on your caddy are snacks, a cocktail, a good book, or even a tablet that you can watch your favorite movie on!
I especially love this one from VaeFae:
Expandable Wooden Bath Tray for Tub with Wine and Book Holder
View on Amazon
It's made from beautiful solid teak, has a book or tablet holder built in, and even features a dedicated wine glass holder if that's your thing! It also has a wide expansion range so should fit most bathtubs.
2. Consider the lighting
When you attend a spa day, one of the first things you notice is how calm and serene it is, and this is exactly the environment you should seek to create at home. It's simple to do, just by making a few tweaks to your lighting.
The best lighting to help you relax is dim, warm light. Reddish light is associated with better rest and relaxation because of the wavelengths it omits.
Red light has the longest wavelength of all colors meaning that it won't cause the brain to go into overdrive, so it makes relaxation much easier to achieve.
Chromotherapy bathtubs are perfect for this as they are fitted with adjustable waterproof lights and allow you to control the colors depending on your mood. But don't worry if you don't have one of these; a cheap and easy way to get a similar effect is with underwater LED lights like this one from GlowTub:
GlowTub Underwater Remote Controlled LED Color Changing Light
View on Amazon
3. Pick the right music
Nothing says unwinding after a long day better than a hot bath and your favorite tunes. Listening to music causes the brain to release endorphins, and this can cause us to feel happier and less stressed.
While listening to music through your phone or Bluetooth speaker is all well and good, you can actually go a lot further with your bathroom audio setup if you want to get serious about it.
It's not for everyone, but if long baths are your main relaxation time, consider creating the ultimate surround sound experience—ready for when you want to whack on your chilled playlist and enjoy a glass of vino in the bath!
4. Use essential oils
Aromatherapy is another great way to relieve some stress after a busy day, and adding some essential oils to your bath or to an essential oil diffuser is a great way to ensure you have the ultimate luxurious experience.
Oils such as lavender are fantastic to add to your bath as it helps to calm the mind and body. Lavender also has been known to have a mild sedative effect, which in turn can help you to really sleep well afterwards.
Jasmine is another great essential oil to add to your bathroom, as it can can evoke similar feelings of wellbeing and calm. Jasmine is believed to relax the body and mind without causing sleepiness, so it could be a good option for a daytime soak as well.
5. Try honey
Maybe you don't have some of the things on this list at home right now, but one thing you just might have is some honey. As well as being a delicious way to sweeten things, did you know it can also be used in the bath?
Honey baths are a great way to relax and rejuvenate the skin. The benefits of honey have been known for centuries and its healing properties are still being enjoyed today. Honey is a natural humectant, meaning it helps to keep the skin hydrated and supple. It is also a natural antibacterial and can help to clear up skin conditions such as acne.
When used in a bath, honey can help to soothe and relax the body and mind.
I have another article which explains exactly how to use honey to create a dreamy, relaxing bath.
6. De-clutter
If you have a small bathroom, it's a good idea to put any accessories out of sight. Too many things in one place can make you feel overwhelmed and more stressed, so consider this before running a hot bath to relax in.
Place any shower gels, cleaning products and accessories out of the way and only keep out what is really necessary (on your bath caddy is perfect) to ensure that you can really begin to relax and get your zen on.
7. Bring the outdoors in
Houseplants have become incredibly popular in recent times, so much so that there's no denying it's a trend here to stay. Nowadays you can expect to see houseplants in almost every room of the house—including the bathroom of course.
While it might seem strange to have a bathroom adorned with plants, the effect that foliage and greenery has on the mind will make you feel like you're in a nature—and who doesn't want that?!
Did you know that being around house plants also has a positive impact on our mental health? That's right! In fact, studies have shown that seeing and being around houseplants helps us feel more calm and relaxed which can help to reduce stress and improve our mood. Some of the best plants to keep in your bathroom include the Chinese money plant, Aloe Vera and Snake Plants.
8. Meditate
The purpose of meditation is to calm your mind and allow yourself to zone-in to your feelings and focus on your breathing. And what better place to calm your mind than in the bath?
Meditation has many benefits including decreased levels of anxiety, improved focus and an increased sense of mental wellbeing.
Lots of people struggle meditating due to discomfort when sitting, but in the bathtub you can lie down in hot, soapy water which will help make you feel relaxed and allow you to focus.
Another benefit of meditating in the tub is because it allows you to really switch off from technology. Even when you practice meditation in a quiet room it can be all too easy to reach for the phone, whereas in the bath it is much easier to completely switch off from our smartphones and concentrate on our breathwork.
If you want to try some bathtime meditation but are not sure exactly how, I have a step-by-step guide which should help you get started.
9. Pamper yourself
Finally, there's nothing quite like being pampered to really allow yourself to unwind after a long day. Whether it's a deep tissue massage, a deep cleansing face mask, or a pedicure, a delightful pamper has to be the best form of self-care. But did you know you don't have to go all the way to the spa to enjoy the benefits?
You can create your own spa experience in the bath without needing many additional products at all. In fact, one of our favorite bathtime pamper treatments is an all over exfoliating body scrub.
Right now I'm loving the natural body scrubs from Bare Botanics. This is the Lavender Citrus, but they do a whole range of delicious scents:
Bare Botanics Himalayan Salt Body Scrub (Lavender Citrus)
View on Amazon
A body scrub doesn't just make your skin feel rejuvenated, it has additional benefits too. The great thing about a body scrub is that it helps to speed up cell renewal, which is essential for younger looking skin!
10. Consider your bathtub
If you want to truly relax after a stressful day, you want to ensure that you'll be comfortable—and that includes your bathtub. If you've tried some of the other suggestions and your bathroom is still not quite providing the chill time you need, it could be your tub itself that's the problem.
Depending on the space you have available, there are many different styles and bathtub materials to choose from.
Nothing says luxury and relaxation more than a freestanding bathtub. Not only can a freestanding tub make your bathroom feel like a spa retreat, but it can also have an impact on the overall aesthetic of your room.
If you have a large bathroom, consider a jacuzzi-style spa bathtub. Not only will the hot water relax every inch of your body, but the massaging from the jets will help to soothe away any mental and physical stress you have helping you feel revitalized and refreshed.